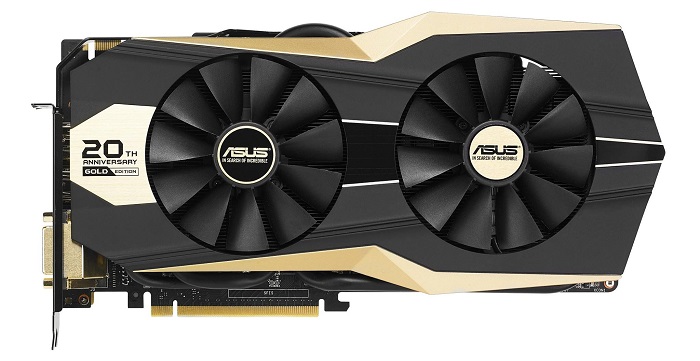 Asus has today released a new flagship graphics card based on Nvidia's Maxwell GTX 980 GPU, the company's fifth custom variation of full-fat GM204. While April 1st is clearly a terrible day to launch a new product, we have official confirmation from Asus that its GTX 980 20th Anniversary Gold Edition graphics card is no joke, so read on without hesitation.
The Asus GTX 980 20th Anniversary Gold Edition, quite a mouthful indeed, sits atop the Asus GTX 980 range which also consists of Matrix Platinum, Poseidon Platinum, Strix and Strix OC variations. Fittingly, the Anniversary Gold Edition boasts the highest clock speed of them all with a 1,317 MHz base clock and 1,431 MHz boost clock using cherry-picked GPUs, though the 4GB of memory is kept at the reference 7,010MHz speed.
The real meat of the new Asus graphics card comes with regard to the power componentry, which is capable of handling up to 350 watts. The GM204 GPU is powered by a 14-phase Super Alloy Power VRM that makes use of 10K black-metallic capacitors, 'concrete-core' chokes and hardened MOSFETs. Importantly, Asus claims that there's 'loads of headroom for experimental performance tuning', and for haters of coil-whine the new Asus card is said to be free from 'distracting whines and buzzes'.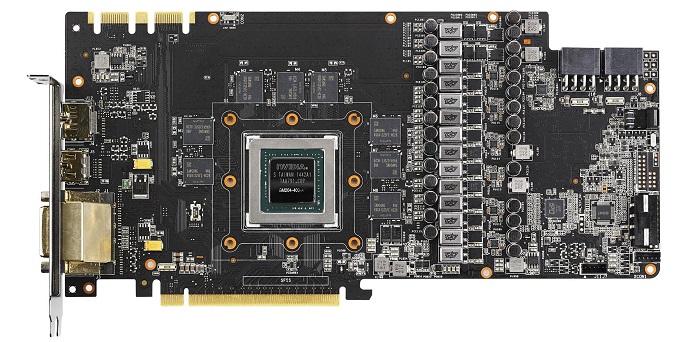 The cooling solution, just like the VRM, is virtually identical to the Asus Matrix Platinum GTX 980. The 20th Anniversary Gold Edition features the same Direct CU II heatsink with a 10mm heatpipe and a pair of fans. The CoolTech fan found on the Matrix Platinum has been replaced by a second standard fan, presumably to provide more cooling capacity but also to allow for a hybrid fan mode. A gold-coloured back plate tops off the premium aesthetic.
For extreme overclockers Asus provides a memory defroster function and a VBIOS Safe Mode button which resets all frequency and voltage changes, handy for when a failed overclock won't play ball. Asus hasn't yet provided pricing or availability information but we suspect the Asus GTX 980 20th Anniversary Gold Edition will be produced in limited quantities and hold an additional price premium over the Asus Matrix Platinum GTX 980, which currently retails for £570 ($640).