Rumours, leaks and spills concerning the upcoming next generation of AMD Radeon graphics cards have been coming thick and fast in recent weeks. With that in mind its good to have a compilation of how all the rumoured Radeon 300 series graphics cards sit together and overview of their expected specifications. We'd like to thank German CPU and GPU enthusiast site 3D Center for producing the concise table reproduced below.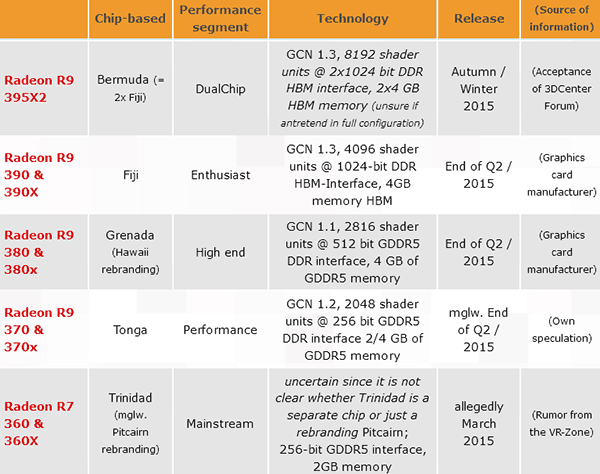 The above table outlines a full range of new graphics cards from AMD, from mainstream to a dual-chip solution. However some of the sources are quite sketchy right now - rumours, speculation and 'forum consensus' account for three of the five listings above. Nevertheless it is interesting to see the possible lay-of-the-land and the feasible shape of things to come.
The enthusiast level 'Fiji' card is probably the most interesting as it is expected to be the first graphics card ever to incorporate 'stacked' high bandwidth memory, HBM. Some earlier rumours referred to this card as the R9 380(X) but it looks set to be released as the R9 390(X) range. The HBM is said to connect to the GPU with a 1024-bit memory interface. It is suggested that Nvidia could take months if not years to release a 'Pascal' graphics card with HBM so Fiji XT, Fiji Pro and Fiji CE may be crucial products for AMD to whittle away at Nvidia's emerging dominance.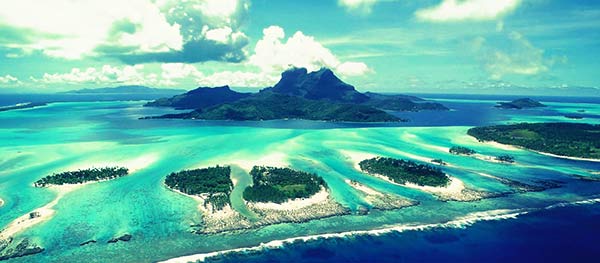 Overall the range will have a bit of a problem with a "mishmash of GCN versions" according to 3D Center. Beyond the new architecture in Fiji, sporting GCN 1.3 we will see various rebrands of current AMD GPUs to flesh out the R300 range sporting GCN 1.1 and GCN 1.2 GPUs.
Recently we heard that AMD was working on the "finishing touches" to the Radeon 300 series. Let's hope that's true and the finishing touches are to the most interesting SKUs rather than the rebrand/rebadged cards.