AMD has for the first time officially made reference to the Radeon 300 series of graphics cards. Furthermore, a Facebook user, quizzing the chipmaker about its release schedule, was told that AMD is "putting the finishing touches on the 300 series," right now.
We have seen signs of the AMD Radeon being readied in the background by AMD previously. First of all AMD CEO Lisa Su stated that the firm's next generation APU and GPU products would be appear in Q2 this year. Naturally the GPU generation following the current Radeon 200 Series would be called the 300 Series. However we've also seen unofficial mention, leaks and other information emerge with talk of graphics cards such as the Radeon R9 380X and R9 390X. We've even seen benchmarks of a certain 'Captain Jack' graphics card.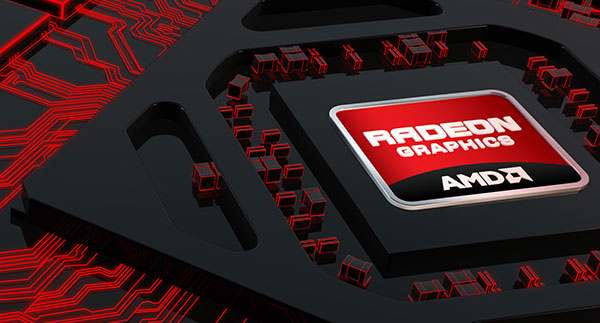 However some of the most interesting information came from the semi-official source of the LinkedIn social network pages of various AMD engineers. The LinkedIn information included references to the 'AMD R9 380X GPU' and pointed to the use of a "2.5D discrete GPU SoC using stacked die High Bandwidth Memory (HBM)".
Getting back on to the topic of timescales, the AMD Facebook "finishing touches" confirmation came yesterday, Via Facebook, as a result of someone asking whether the Radeon R9 390X or 380X would be released before GTA V PC landed on PCs. The questioner was a disgruntled Nvidia GeForce GTX 970 purchaser who had already sold on that graphics card. In response the AMD Facebook administrator wrote:
"We don't have an official date to share just yet but the second we know, we will definitely announce it on Facebook." This was followed up by the statement "We're still putting the finishing touches on the 300 series to make sure they live up to expectation. Can't wait to reveal them though. We're pretty excited."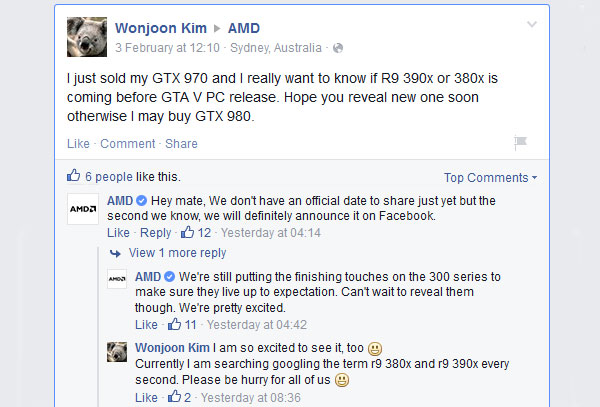 Working on "finishing touches" does bode well for an early or on-time Q2 release schedule (that's April – June). We also can't wait to see if the Radeon 300 Series lives up to its HBM expectations and have these graphics cards in the HEXUS test labs.