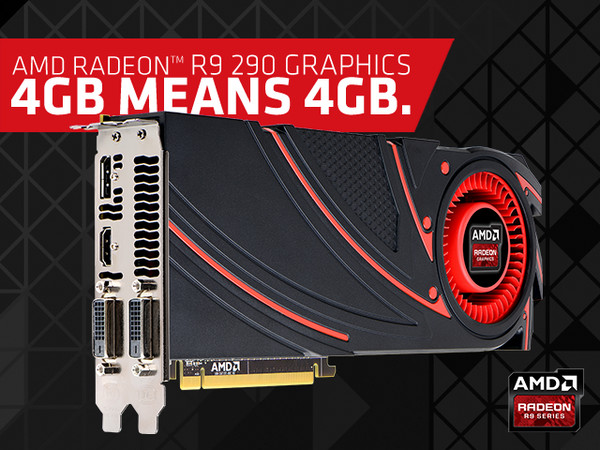 Since the emergence of the Nvidia GeForce GTX 970 memory controversy the company's main rival in the graphics market, AMD, has remained surprisingly quiet. That is, until yesterday when AMD decided it would try and spin the situation to its advantage with some questionable marketing but, more importantly, further price cuts.
HEXUS has extensively covered the technical extent of Nvidia's GTX 970 controversy already; the issue covers not just memory, but also a specification adjustment that reduces the number of ROPS down to 56 from the previous total of 64. In the memory department the GTX 970 is almost eight times slower at accessing the last 0.5GB of video memory than it is at accessing the first the pool of memory that makes up the first 3.5GB.
Capitalising on that former issue with memory performance, AMD has released an image bearing the slogan '4GB means 4GB', in an effort to promote its R9 290 graphics card that directly competes with the Nvidia GTX 970. Furthermore, AMD has encouraged AIBs to lower the price of the R9 290X and, resultantly, the flagship R9-series GPU can be now be had for as low as $300 with the R9 290 available for as low as $270. By contrast, the lowest cost GTX 970 is around $330.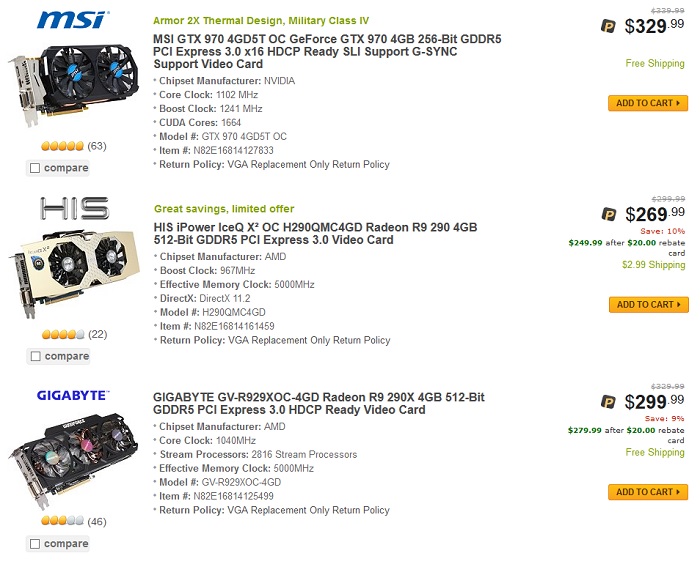 The cheapest GTX 970, R9 290 and R9 290X GPUs on Newegg (from top to bottom)
With AMD's R9 290 and R9 290X both aggressively priced to compete with the GTX 970 consumers are able to get better deals than ever. If you've got $300~350 to spend it's a truly is a tough choice between a GTX 970 or R9 290X, and with the R9 290X now available for $300 (plus appropriate taxes), AMD has made that choice a little tougher for consumers. Such aggressive pricing hasn't yet been implemented this side of the pond, mind.
If you were, or are, planning, a GPU upgrade which option would you go for in light of recent events - an AMD Radeon R9 290X or and Nvidia GeForce GTX 970?