In an effort to boost its market-share figures in the professional GPU market, AMD will be offering rebates of up to 50 per cent for the FirePro product line. Until December 31, 2014, the 'experience AMD FirePro' campaign offers cashback on first-time FirePro purchases of up to £1,195/$1,995/€1,460.
Purchases must be made from approved AMD resellers and qualifying cards include the FirePro W9100, W8100, W8000, W7000, S9000 and S7000 models. Customers in Canada, France, Germany, Great Britain and the USA all qualify.
Figures by Jon Peddie Research (JPR) suggest that AMD is going from strength to strength in the workstation GPU market, helped along by the inclusion of AMD FirePro in Apple's Mac Pro workstation systems. Q3 of 2014 saw 1.28 million workstation-class GPUs shipped in a variety of form factors; mobile modules and desktop add-in cards.
Given that 1.02 million workstations were shipped in the same quarter it can be inferred that the market for discrete workstation GPUs, meaning workstation GPUs bought individually, is quite small. The majority of workstation GPUs ship inside pre-configured workstation systems built by the big three of the workstation market: Dell, HP and Lenovo.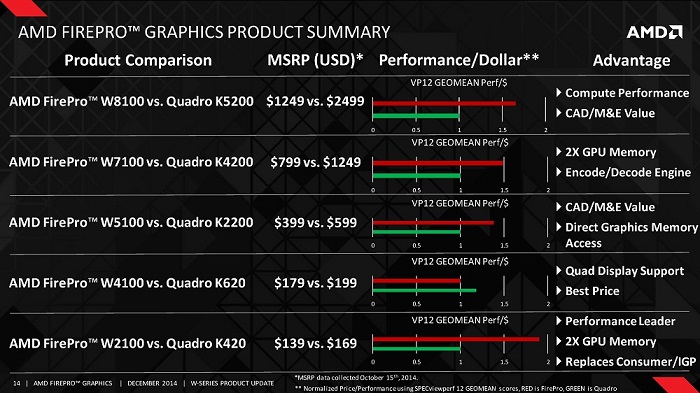 AMD claims its pre-rebate pricing already allows it to be a performance-per-dollar leader in almost all price segments, but whether that leadership holds after factoring in running costs, performance per-dollar-per-watt, is another matter. That point is especially poignant given that some of Nvidia's newest Quadro GPUs make use of the highly-efficient Maxwell architecture that current 28nm GCN designs from AMD cannot match.
In related news, AMD announced last week that the world's premier supercomputer on the Green 500 list was powered entirely by AMD FirePro S9150 server GPUs. The L-CSC cluster at the GSI Research facility is powered by 600 GPUs, each capable of 5.07TFLOPS of peak single-precision and 2.53TFLOPS of peak double-precision performance.