Benchmark results, said to include the rumoured upcoming AMD Radeon R9 390X, have been uploaded to Chinese tech forum ChipHell. If these results have any validity then we are seeing the first set of benchmarks from AMD's upcoming high end graphics card challenger based upon the 'Pirate Islands' GPU architecture.
We saw the first signs of AMD's new R9 300 series emerge into the material world about a fortnight ago when shipping manifests detailed the export of a 'Fiji XT' based graphics card. At the same time synthetic benchmark database testing results emerged, with further spec details, for what was thought to be the Radeon R9 390 and the R9 390X.
To recap, it is currently thought that the R9 390 is equipped 3520 stream processors at 1050MHz and the R9 390X has 4096 stream processors at 1000MHz with 4GB of VRAM. So what kind of performance can gamers expect from these new graphics cards? ChipHell says it has the answer to that question with its charts comparing the frame rates and power consumption of the 'Captain Jack' graphics card it has got its hands on.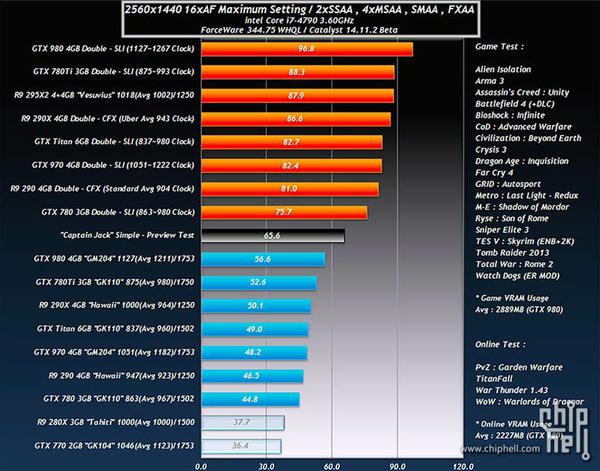 Click to zoom in
The first chart you see above creates a metric from an average gaming performance using a pretty large selection of modern games including Far Cry 4, Watch Dogs, Dragon Age: Inquisition, Battlefield 4, Titanfall and several more. The tests were run on a system with an Intel Core i7-4790 with a 2560×1440 resolution screen with IQ settings set to maximum. The tester used the 344.75 WHQL drivers for NVIDIA cards and Catalyst 14.11.1 BETA drivers for AMD cards.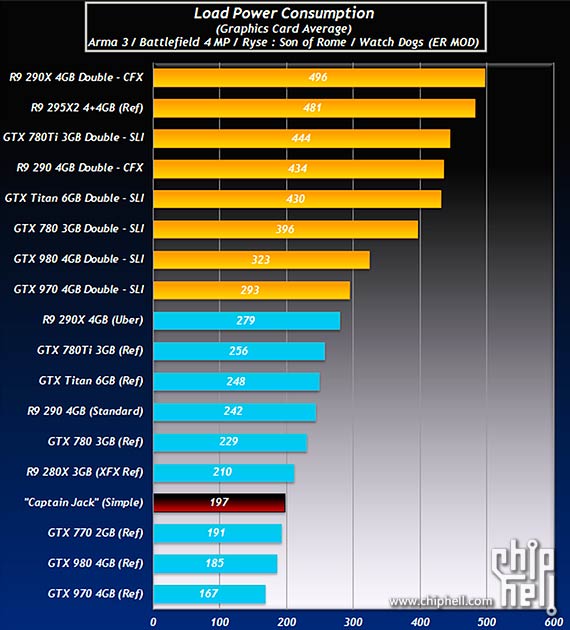 The chart above shows average graphics card power consumption when under load playing a selection of modern games.
Please remember that these are unconfirmed results of an unlaunched, unannounced graphics card and while mining the ChipHell forum can unearth gems of truth it can also be the source of large nostril-fulls of methane.