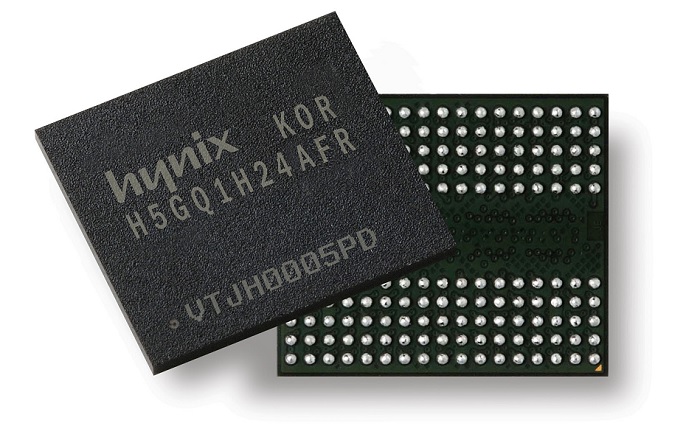 Memory giant SK hynix is now shipping high-frequency memory to its partners capable of effective clocks of 8GHz, surpassing the current fastest 7GHz memory that ships on select Nvidia GPUs.
SK hynix is offering these new memory chips in 4Gbit (512MB) capacities in the Fine Ball Grid Array (FBGA) package. Reaching 8GHz requires a slight bump in voltage over current 7GHz memory designs, from 1.5V to 1.55V.
Many existing Nvidia cards that use 7GHz memory clocks - the GeForce GTX 770 through GTX 980 - will already be able to reach 8GHz with overclocking. The difference here is these new memory chips from SK hynix will operate at a native 8GHz, with scope to be pushed further if graphics cards can facilitate it.
High-Bandwidth Memory
While improving the frequency of GDDR5 memory is the immediate concern for graphics card development, more interesting is what will come after: High-Bandwidth memory (HBM). HBM implementations from the company are close to shipping, according to reports.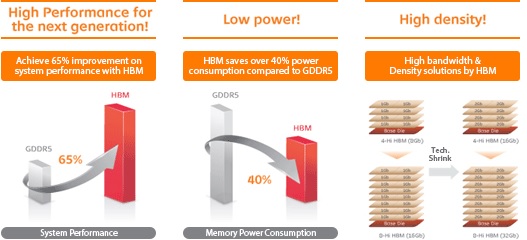 With respect to memory capacity the first generation of HBM stacks can support 8Gbit (1GB) of VRAM. Commentators claim that next-gen graphics cards will be able to have four HBM stacks allowing for 32Gbit (4GB) of VRAM. These first-generation stacks are '4Hi,' which equates to four DRAM dies stacked vertically on top of a logic die, and use 1.2V to sustain the resulting data rate of 1Gbps.

1Gbps may not sound particularly high but these HBM stacks can deliver a bandwidth of 128GB/s thanks to the increased I/O width of x1024, compared to x32 for present GDDR5 solutions. Taking into consideration that up to four of these stacks can be used, the total bandwidth for a graphics card implementing 32Gbit (4GB) of 4Hi HBM would be 512GB/s. For context the Nvidia GeForce GTX 750 Ti has a bandwidth of 86.4 GB/s and the GeForce GTX 980 224 GB/s.
Rumour has it that HBM could make its way into AMD's next-gen flagship graphics card, expected to be called the R9 390X, or Nvidia's full-fat GM200. For the time being, we are more likely to see 8GHz VRAM implemented first.