Backed by a blllion-dollar business
Prices for solid-state drives (SSDs) appear to be levelling off after months of gradual drops for all capacities. Quality 128GB SSDs are available from £55, 256GB models from £80 and 512GB from £160. These drives typically offer high sequential throughput and reasonable performance once in a heavily-used state.
Big-name players such as Crucial and SanDisk have the ability to produce their own NAND flash - which represents the vast majority of an SSD's cost - so any new entrant into this market has significant barriers to overcome. Those who merely place a sticker on top of someone else's hard work have found it difficult to compete. You need to be a producer of NAND to really play in the SSD market these days, so it's with some interest that we take a look at an SK hynix SSD today, the 256GB SH910A.
Economies of Scale
SK hynix is well-known to HEXUS readers as the producer of memory for a slew of graphics cards and ordinary system DRAM. Rated as the world's sixth-largest semiconductor company and posting revenue of over US $13bn last year, SK hynix has a mature OEM business that supplies many leading brands. As an example, Dell uses hynix SSDs for its premium laptops, while HP and Asus have deep-standing relationships with hynix's storage division.
hynix has played in the retail SSD market before, in 2012, but is now making a concerted move to break into the channel. The company is using SSDs based on the OEM SH920 drive - as found on Dell XPS laptops - and now releasing them in 64GB, 128GB, 256GB and 512GB capacities. The retail models are known as the SH910A.
SK hynix SH910A SSDs

Nominal Capacity

64GB

128GB

256GB

512GB

Controller

Link_A_Media (LAMD)

NAND

20nm hynix MLC

Total Available Capacity

64GB

128GB

256GB

512GB

Interface

SATA 6Gb/s, compatible with SATA 3Gb/s and 1.5Gb/s

Sequential Read Speed

up to 525MB/s

up to 530MB/s

up to 530MB/s

up to 530MB/s

Sequential Write Speed

up to 180MB/s

up to 330MB/s

up to 410MB/s

up to 410MB/s

Random IOPs (4KB Reads)

up to 70K IOPs

up to 94K IOPs

up to 94K IOPs

up to 94K IOPs

Random IOPs (4KB Writes)

up to 40K IOPs

up to 71K IOPs

up to 75K IOPs

up to 76K IOPs

Available Form Factors

2.5in

Active Power Consumption

3W Typical

Idle Power Consumption

0.13W Typical

Life Expectancy

1.2 Million Hours MTBF

Endurance

TBC

Warranty

3 Years

Current Retail Price

£35

£50

£88

£170
In-house Specs
In 2012, SK hynix first came to retail market with SSDs using a SandForce controller. At around that time, the Korean giant purchased controller company Link_A_Media (LAMD) for $250m. It's no surprise the LAMD controller appears on the SH910A.
General specifications are just what you'd expect from entry-level drives. Sequential write speed goes up with overall capacity, due to increased NAND parallelism for the controller, topping out at an acceptable 410MB/s. Yet it's not the out-of-the-box sequential speed that sets SSDs apart, it's the performance once the drive is in a well-used state. SK hynix declines to provide such numbers, and there's no mention of endurance, usually quoted in total bytes written over a set period. The company, however, backs the SH910A with a standard three-year warranty.
There's no overprovisioning on the SH910A range. Though it has positive ramifications for drive endurance, by keeping a proportion of the capacity aside for processing operations, we'd rather see the full LBA available for budget drives. Speaking of prices, the review 256GB model is available for £88, or about the same money as the popular Crucial MX100.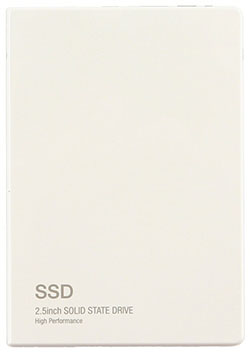 The Drive
SK hynix's OEM credentials seep through when looking at the SH910A. The plastic, Apple-white color scheme gives way to a metal base. The cover comes away easily enough by pinching at the sides and, unlike others, there's no way hynix will know whether it has been removed, which is usually important for warranty purposes. The appearance is nigh-on identical to the raft of OEM drives produced by the company, unsurprisingly.
SK hynix provides a SATA cable, Molex power and adapters for fixing the 7mm-high chassis into regular systems. There's no drive-migration software or Windows-based configuration utility, mind, so the SH910A loses a couple of marks for that.
Retail SK hynix drives are all presented in the regular 2.5in form factor. hynix does produce mSATA drives, but those won't be available in the channel anytime soon. We'd be interesting in seeing M.2 versions of this drive in the near future.
Peering inside shows a standard-sized PCB holding eight 256Gbit hynix NAND chips. Identified as H27QEGDVEBLR, the same type of 20nm flash as used in the Microsoft Surface 3 tablet, incidentally, the LAMD's LM87800AA controller takes centre stage. It's the same one found on the Corsair Neutron GTX, albeit with a different supporting NAND cast this time around. Operations are buffered by a single SK hynix H5PS1G83JFA DRAM chip.
Summary
SK hynix uses an in-house controller and NAND to produce a solid-state drive that's squarely aimed at the budget end of the market. But does budget pricing mean budget performance? Let's find out.