All signs suggest that next-generation PC graphics are now just around the corner, but for the savvy gamer, that usually means that current-generation bargains are to be had.
One that might have slipped under your radar is the Radeon R9 295X2. The obscenely-fast, dual-GPU behemoth was launched back in April with a staggering $1,499 price tag, and while the card still sits comfortably at the top of AMD's product stack, the manufacturer has this week cut the asking price to a more palatable $999.99. That's a $500 drop in just five months.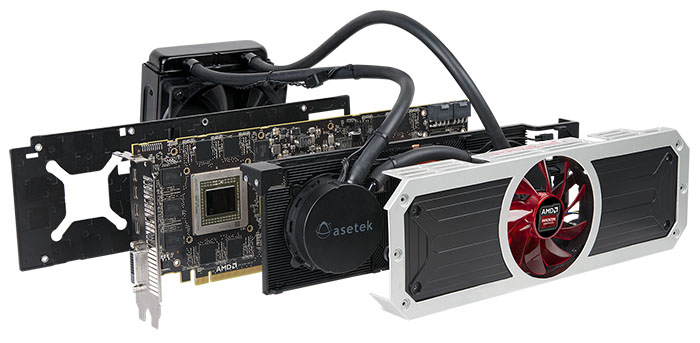 In the UK, Scan Computers has been one of the first to respond, and the retailer currently has an XFX derivative available to order at a cost of £699.95. It's worth noting that stock appears to be limited - the card is currently on pre-order only - but on the flip side it is eligible for AMD's Never Settle: Space Edition bundle, meaning a choice of three free games.
There has been no mention of whether or not this is a limited-time offer, but at the current price, the R9 295X2 costs roughly the same as two R9 290Xs, making it a particularly good deal for a single-card, liquid-cooled solution. Heck, if you really want to go crazy, a quad-GPU, dual-R9 295X2 setup would now set you back just £1,399.90. Bargain.
We're still talking big sums, but then this is a serious amount of horsepower, and if you're willing to throw the best part of £700 at a truly high-end graphics upgrade, the R9 295X2 is a noteworthy option for enthusiasts seeking 4K gaming potential.
Source: XFX Radeon R9 295 X2 Core Edition 8GB at Scan Computers