ASUS has launched this year's "faster than the fastest" graphics card under its Republic of Gamers (ROG) sub brand. The Ares III is said to offer the pinnacle of performance this year in the single card solution graphics card stakes.
Superlative graphics performance is achieved by the dual AMD Radeon Hawaii XT R9 290X GPUs factory-overclocked to 1030MHz paired with 8GB of GDDR5 memory with a clock speed of 5000MHz. ASUS informs us that the Ares III performs 15 per cent faster and runs Battlefield 4 at frame rates 33 per cent greater than the GTX Titan Z in 4K Ultra High Definition (3840×2160) resolution.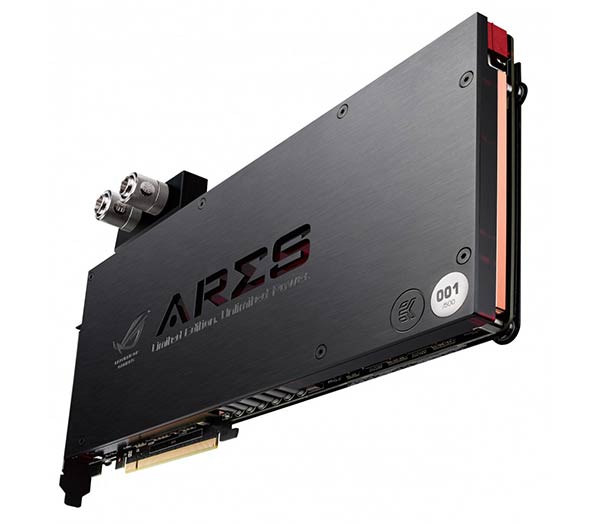 The ASUS ROG Ares III graphics card is a single slot card. It achieves its slimness thanks to the "exclusively designed" EK water block which we are told is "hand carved" for the ultimate precision fit. Of course this relies upon a liquid cooling loop and radiator. While it boasts the stunning performance as detailed above, this ROG Ares III graphics card runs 25 per cent cooler than the reference AMD R9 295X2.
For increased reliability and durability the ROG Ares III features Digi+ voltage-regulator module (VRM) technology with a 16-phase concrete-core power design and Japanese-made 10K black metallic capacitors. These hardware tweaks also increase the overclocking potential on offer.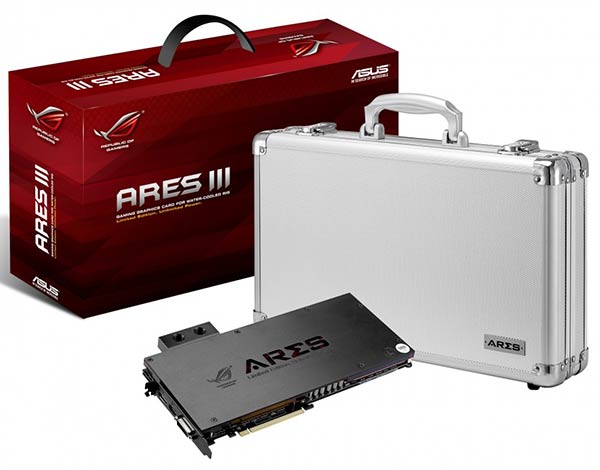 ASUS is bundling a ROG themed GPU Tweak and live streaming utility with this graphics card which should appeal to the growing numbers of eSports streamers.
We are told that the ROG Ares III will be made available within days. The card will be a limited numbered edition with only 500 being distributed worldwide. We don't have any pricing details as yet.
ASUS Rampage V Extreme helps overclocker reach 6549.71MHz with his i7 5960X CPU
In related ASUS ROG news overclocker John Lam from Hong Kong has reportedly pushed his i7 5960X to 6549.71MHz using an ASUS Rampage V Extreme motherboard and G.Skill Ripjaws 4 16GB DDR4 RAM among his component arsenal. Take a look at a photo of the record breaking action below.