Less than a fortnight after we saw a flood of Radeon R9 285 graphics cards and their packaging pictured, AMD has gone official with the new member of the R9 range. The AMD Radeon R9 285 was launched at an event on Saturday to celebrate '30 Years of Gaming and Graphics'. AMD claims it has designed the R9 285 for just one purpose: "to play demanding PC games at maximum detail better than any card in its class".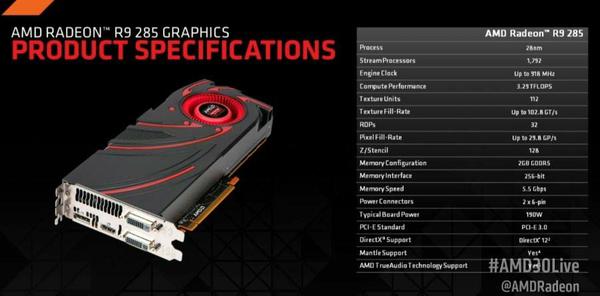 The Radeon R9 285 is equipped with 1792 Stream Processors with a core clock speed up to 918MHz. Either 2GB or 4GB of GDDR5 memory clocked at 1375MHz is connected via a 256-bit memory bus giving a memory speed of 5.5Gbps and bandwidth of 176GB/s. Overall you have 3.29TFLOPs of compute performance here.
AMD's newest PCI Express graphics card requires 190 watts via a pair of six-pin power connectors. This represents a good percentage drop in peak power requirements compared to the 250 watt Radeon R9 280. However 3D performance should be comparable outside of Ultra HD resolutions and the pricing is more affordable.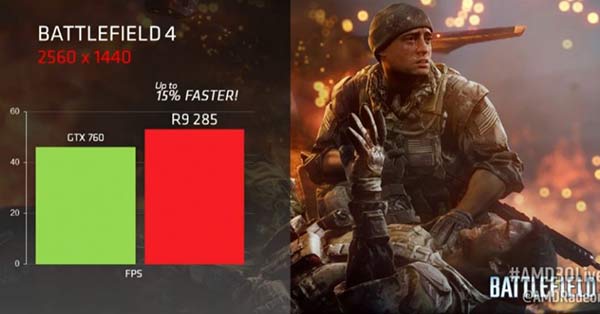 During its presentation AMD focussed upon how its new Tonga Pro card compares with the Nvidia GeForce GTX 760. We saw a slide citing (Mantle API game) Battlefield 4 performance at 2560 x 1440 pixels, at the unveiling, claiming the R9 185 is "up to 15% faster". Also on the official AMD product page we read that "The AMD Radeon R9 285 graphics card is faster than Nvidia's GTX 760," - it's that straight forward. The footnotes reveal this claim is backed up by a 3DMark Firestrike11 overall score of 7066 Performance, 3513 Extreme, versus 5650 and 2774 respectively for an Nvidia GTX 760 fitted to the same Intel i7 system.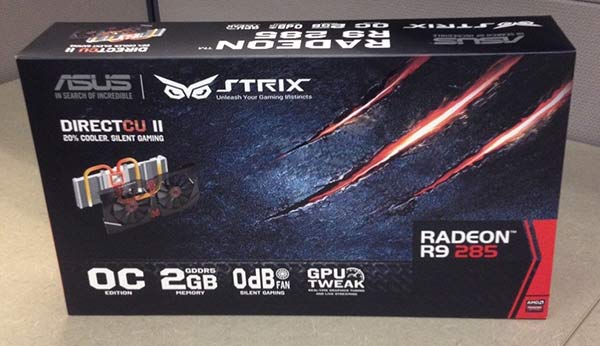 The AMD Radeon R9 285 will be available from all the usual partners such as Gigabyte, Sapphire and ASUS from 2nd September, priced around the US$249 mark, reports VideoCardz.