A trio of AMD add-in-board (AIB) partner graphics cards powered by the Radeon R9 285 GPU have been leaked in pictures. The shots include pictures of both the hardware and the packaging, giving us quite a clear glimpse of things to come, probably. VideoCardz snaffled the press-release style photos displaying upcoming Radeon R9 285 examples from Sapphire, XFX and HIS.
VideoCardz reports that even though it gained possession of these detailed product and packaging images the specs it has aren't confirmed. The site does insist that it is sure of certain specs however, these are that all the AMD Radeon R9 285 cards will be equipped with 2GB GDDR5 memory across a 256 bit interface. Also it is noted that all the AIB cards have the same port configuration, so far, with two DVIs, one HDMI and one DisplayPort.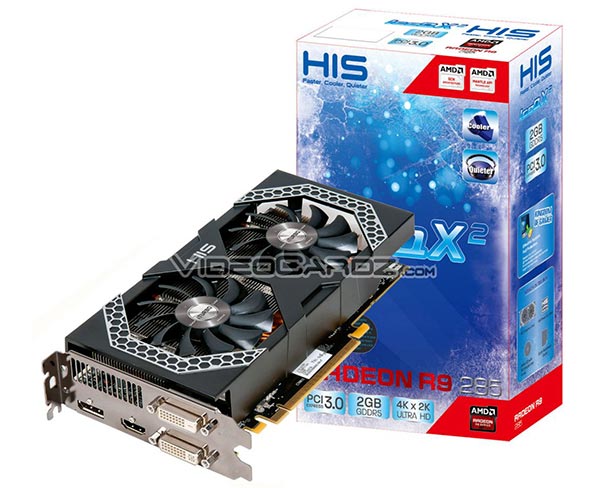 It is thought that the Radeon R9 285 cards will be priced and performance targeted to trump the popular Nvidia GeForce GTX 760 cards. VideoCardz says that this new member of the Radeon family will also be made available in the burgeoning mini-ITX form factor. You can see from the card images that these aren't particularly large or bulky graphics cards and all ship with a dual fan cooler setup.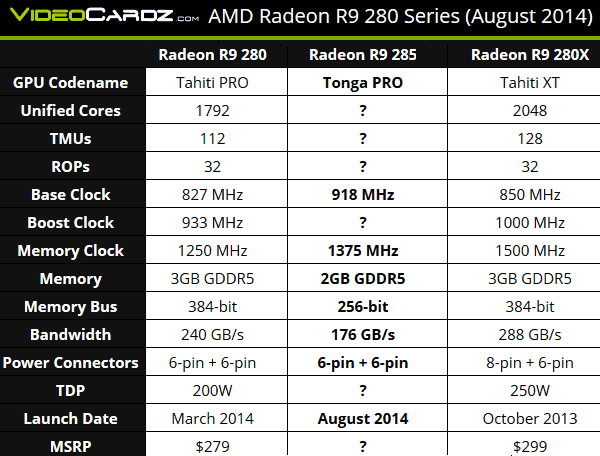 With so many press images and details leaking it shouldn't be long until AMD and its AIB partners make the Radeon R9 285 GPU official. You can rest assured that at that hour HEXUS will be here with a full review and analysis.