AMD has announced a new GPU-based server card aimed at the high performance computing (HPC) server market. The AMD FirePro S9150 is said to be "the most powerful server Graphics Processing Unit (GPU) ever built," for this market. Its headline achievements include surpassing 5 TFLOPS of peak single-precision and over 2.5 TFLOPS of peak double-precision floating point compute performance. Also AMD claims this new FirePro card uses a maximum of 235 watts, which equates to "up to 77 per cent more performance/watt than the competition".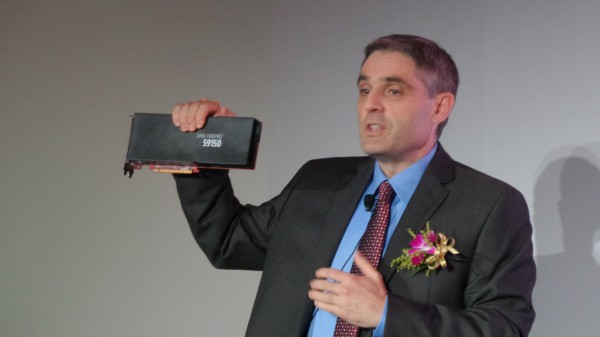 The AMD FirePro S9150 Server GPU is built upon the AMD 28nm GCN architecture. At your computing disposal you will have 2,816 stream processors (44 GCN compute units). The card features 16GB of GDDR5 memory which is interfaced via a 512-bit bus and provides 320GB/s of memory bandwidth.
AMD leverages its PowerTune technology to boost the GPU clock speeds by up to 30 per cent for particularly demanding applications. AMD STREAM technology helps users implement these cards to deliver "massively parallel processing power". The energy efficient design, consuming a maximum of 235 watts, offers 10.8GFLOPS double precision-per-watt. AMD's David Cummings, senior director and general manager, professional graphics, says that helping reduce power and water consumption is important for modern supercomputers that are environmentally responsible. He claimed that "Designed for large scale multi-GPU support and unmatched compute performance, AMD FirePro S9150 ushers in a new era of supercomputing. Its memory configuration, compute capabilities and performance per watt are unmatched in its class, and can help take supercomputers to the next level of performance and energy efficiency."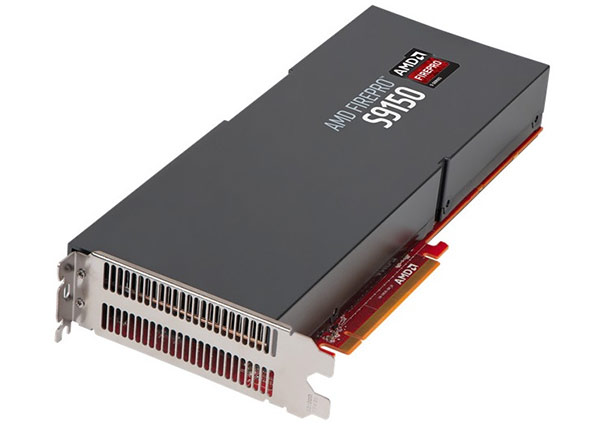 This new server card supports the open, royalty-free, OpenCL application standard and support for OpenCL 2.0 is planned for later this year. With Open CL 2.0 the AMD FirePro S9150 will be able to make use of new features such as Shared Virtual Memory and Nested Parallelism to gain even better performance.
AMD FirePro S9150 key specs:
Cooling/power: Max Power: 235W, Bus Interface: PCIe x16, Slots: Two, Form Factor: Full height/ Full length, Cooling: Passive heat sink
Memory: Size/Type: 16GB GDDR5, Interface: 512-bit, Bandwidth: up to 320 GB/s
Performance: Half rate double precision, 5.07 TFLOPS peak single-precision and 2.53 TFLOPS peak double-precision floating-point performance, Error correcting code (ECC) memory support (external only)
API support: API Support: DirectX 11.1, OpenGL 4.3 and OpenCL 1.2
OS Support: Microsoft Windows 8.1, Windows 7, Windows Server 2012 R2, Windows Server 2008 R2 SP1 and Linux (32- or 64-bit)
System requirements: 20 CFM airflow cooling at 45° C maximum inlet temperature, Available PCI Express x16 (dual slot), 3.0 for optimal performance, Power supply plus one 2x4 (8-pin) and one 2x3 (6-pin) AUX power connectors, 2GB system memory