AMD has emailed HEXUS announcing the impending availability of the AMD Catalyst 14.2 Beta which will be downloadable around mid-day Eastern Time (17.00 GMT). The driver is to be released to coincide with the release of Thief in the US which, as an AMD Gaming Evolved title, is optimised for AMD Radeon graphics and will be updated to support Mantle and TrueAudio in early March.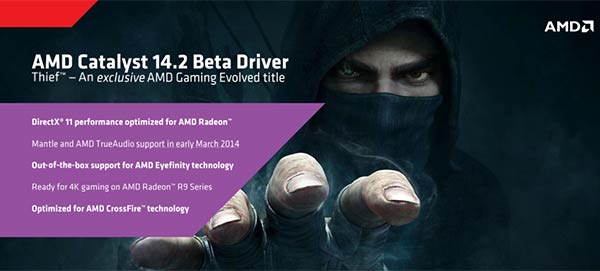 We are informed that Thief players using the AMD Catalyst 14.2 Beta will have access to "4K gaming, AMD Eyefinity technology, AMD CrossFire technology and advantageous DirectX 11 performance". Also everyone, whatever their GPU persuasion, will benefit from the following advanced graphical effects in their Thief game world:
Compute shader-accelerated depth of field for realistic focal lengths
Silhouette-enhancing tessellation to improve character geometry
Complex shadowing systems to support THIEF's dependence on shadows as a core gameplay mechanic. This is a great example of rendering technology supporting an integral element of the game! A notable percentage of the game's rendering budget has been spent on the novel shadowing algorithms.
SSAA for buttery smooth edges.
Mantle and TrueAudio support in Thief aren't enabled from day one but will be coming with a patch in early March, that's not a long time off.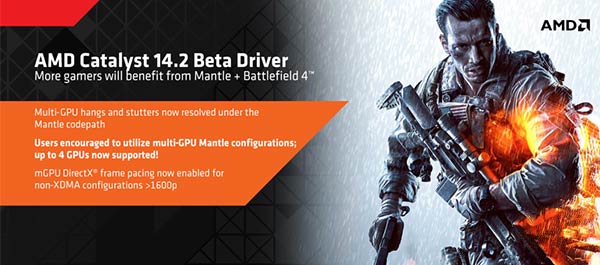 Other improvements present in AMD Catalyst 14.2 Beta include:
Hangs and stuttering resolved for the Mantle codepath in Battlefield 4; users are now encouraged to try mGPU
Multi-GPU frame pacing in Battlefield 3 and Battlefield 4 is now enabled for non-XDMA configurations running resolutions >1600p.
We fixed Minecraft! Sorry about that, builders.
Intermittent hangs and crashes should be resolved in 3D applications
Finally AMD wanted to remind our readers of the progress it has made in the AMD Linux drivers, not related particularly to this Catalyst Beta announcement. AMD has updated the X.ORG 'Radeon' repository with changes including the following: Video Compression Engine (VCE) enabled for GCN base GPUs, Hardware-accelerated encode of H.264 now possible for 1080p60 content, improvements to video decode (UVD) performance, X-video hardware acceleration, "substantial" improvements to hardware-accelerated transcoding app performance, OpenGL feature upgrade to v4.3, additions to the Linux kernel to improve dynamic power management and DisplayPort robustness on GCN hardware and new programming guides and specs for modern AMD GPUs.
I've inserted some Thief screenshots showing the enhanced graphical features below. Click on any of them to bring up a Full HD image.
Thief recommended specs:
OS: Windows 7 or 8
CPU: AMD FX 8000 series or better / Intel i7 Quad Core CPU
RAM: 4+ GB
Graphics Card: AMD Radeon HD / R9 series or better / Nvidia GTX 660 series or better
DirectX: DirectX 11
HDD/SSD: 20 GB