AMD today announced the Embedded Radeon E8860 GPU, the industry's first discrete graphics card based on Graphics Core Next (GCN). The GPU, codenamed 'Adelaar', offers more than double the performance of its predecessor within the same power envelope. It is expected to provide 3D and 4K graphics capability to; embedded gaming machines, digital signage, medical imaging, commercial aerospace, military equipment and even kitchen appliances.
Why do such applications need a powerful 768 GFLOPS enabled GPU? In addition to the powerful 3D and 4K video delivery AMD says that the E8860 GPU will be a very capable processor to swiftly tackle tasks such as terrain and weather mapping, facial and gesture recognition and biometric and DNA analysis.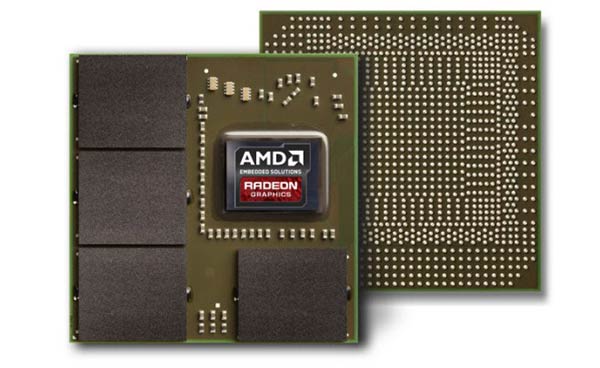 "The demand for rich, vibrant graphics and enhanced parallel compute capabilities in embedded systems is greater than ever before, and is expected to continue to grow as we enter the Surround Computing era," said Scott Aylor, corporate vice president and general manager, AMD Embedded Solutions. "Legacy graphics no longer meet the needs of embedded solutions for today and tomorrow. With unprecedented performance-per-watt, the AMD E8860 GPU addresses the need to drive multi-displays, 3D and 4K content and GPGPU compute across small form factors, harsh environments and mission critical applications."
The AMD Embedded Radeon E8860 GPU supports DirectX 11.1, OpenGL 4.2, and OpenCL 1.2 with support for Microsoft Windows 7, Windows Embedded 7 Standard, Windows 8/8.1, Windows Embedded 8 Standard, Linux and OSes supported by the CoreAVI suite. It carries an impressive seven year support guarantee.
AMD E8860 GPU key hardware specs
640 Shader processors
2GB of GDDR5, 128-bit provides 75GB/s
available on either a mobile PCI Express module (MXM) or PCI Express add-in-board
768 / 48 GFLOPS single/double precision, 3DMark(R) 11 score of 2689
37W TDP
DP1.2, HDMI(TM) 1.4, Wireless Display, Stereo 3D
AMD also compared the chip to Nvidia offerings saying that the E8860 "delivers up to 80 per cent higher memory bandwidth than the best-performing of NVIDIA's sub-50W category GeForce GPUs". Thanks to GPGPU it has up to 61 per cent higher performance-per-watt than competitors. In terms of 3D graphics it does even better with 92 percent higher 3D graphics performance-per-watt then the previous generation. It will be interesting to see what the embedded industry can make of all this extra available graphics and GPGPU power.