AMD today launched an important new member of its AMD Radeon R7 range: the AMD Radeon R7 250X. This card will be used by AMD to spearhead its attack of the key $99/€69 gaming graphics card price point. AMD told us in an email that the R7 250X delivers the same performance and value of the Radeon HD7770 GHz Edition with branding consistent with the rest of the R7 series. With this card the conversion of AMD's range of offerings to the R-series is almost complete.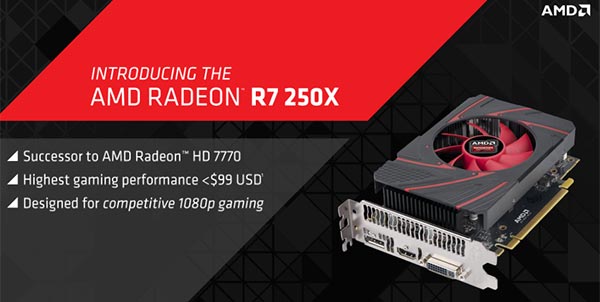 The key bullet point description of the AMD Radeon R7 250X is shown above in a slide from AMD. This card is all about comfortably achieving playable 1080p frame rates in popular PC games at less than the $100 barrier to wallet opening. You can see in the slide below that AMD has the Nvidia GTX 650 in its sights for comparisons.
Let's review the specs of what you get with the R7 250X, HD7770 GHz Edition rebrand, card: A 28nm process 'Cape Verde' Graphics Core Next (GCN 1.0) GPU with up to 640 stream processors running at up to 1GHz. This is paired with up to 2GB of GDDR5 memory connected to a 128-bit bus with a memory speed of up to 4.5Gbps. The R7 250X will supply you with a compute performance of 1.28TFLOPS and you have to supply it with up to 95W of power via a single 6-pin power connection. The Radeon R7 250X will be happy to sit in a PCI-E 3.0 x16 slot and supports DirectX 11.2, OpenGL 4.3 and Mantle.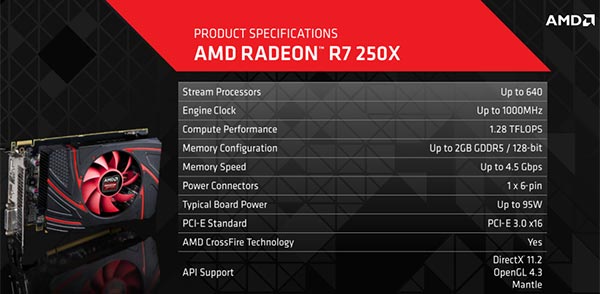 As you would expect, this rebranded AMD Radeon HD7770 GHz Edition doesn't support AMD's new TrueAudio technology and also its older architecture is pared down quite a bit compared to the Radeon R7 260 which is aimed just above the $100 price point at $109. On the other hand the new R7 250X offers 60 per cent more stream processors and approx double the texture units and ROPs of the $10 cheaper AMD Radeon R7 250. So as you can see a little bit of extra cash in this competitive pricing area can get you a significant amount of performance.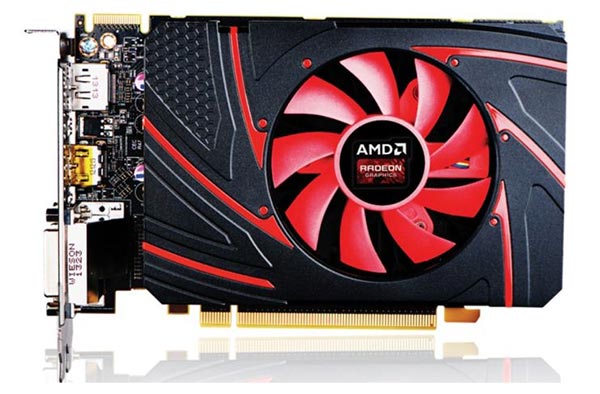 AMD says that Radeon R7 250X based graphics cards will be available from its AIB partners starting today.