While there were some reports flying around about further delays of the Battlefield 4 Mantle patch it has been delivered on time today by DICE. The necessary AMD Catalyst 14.1 beta drivers - to get Mantle optimisations to work - are yet to be released publically but are expected to be available later today.
Johan Andersson, one of the Technical Directors in the Frostbite team, said about the update: "Battlefield 4 on PC is already quite heavily optimized using DirectX 11 and DirectX 11.1, but with Mantle we are able to go even further: we've significantly reduced CPU cost in our rendering, efficiently parallelized it over multiple CPU cores and reduced overhead in many areas." Andersson added that the best performance gains are observed when a game is bottlenecked by the CPU "which can be quite common even on high-end machines".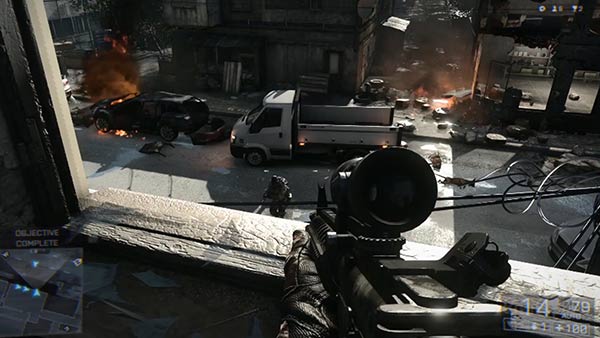 Up to 58 per cent performance improvement in tests
DICE did a "couple of benchmarks" using Battlefield 4 on a variety of configurations. With an AMD A10-7850K 'Kaveri' APU Mantle provides a 14 per cent improvement, on a system with an AMD FX-8350 and Radeon 7970 Mantle provides a 25 per cent boost, while on an Intel Core i7-3970x Extreme system with 2x AMD Radeon R9 290x cards a huge 58 per cent performance increase was observed.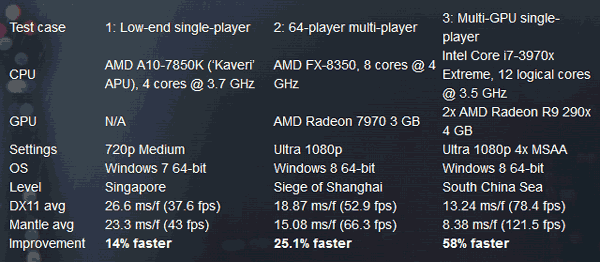 Have a gander at the full details of the tests on the BattleLog Blog here.
How to use Mantle in Battlefield 4
First of all you'll have to download the Mantle update patch for Battlefield via your Origin PC client. The download is 1.23GB. Then you will need to get the AMD Catalyst 14.1 Beta drivers when they are released. Please note that only the following GCN cards will work for now: AMD Radeon R9 290X, R9 290, R7 260X and Kaveri APU. Also you need Windows 7 or 8.X 64-bit. Change the 'Graphics API' option in settings to Mantle after starting the game and then re-start the game.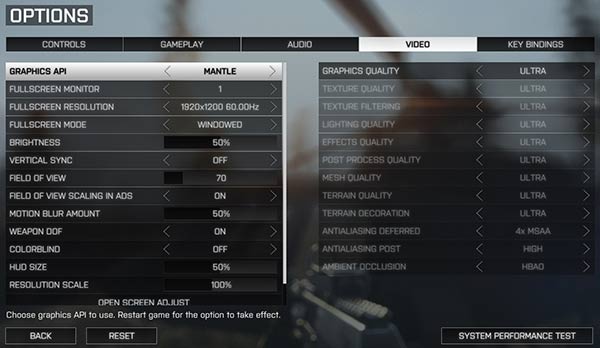 The Battlefield 4 update also provides other game improvements and tweaks including stability improvements and gameplay balance adjustments. Important additions to the impending Catalyst 14.1 beta drivers, beyond the Mantle API, include Frame Pacing Phase 2 and HSA Support.