AMD revealed its latest graphics card range last night, including the AMD Radeon™ R9 290X, R9 290, R9 280X, R9 270X, R7 260X and R7 250. Earlier in the evening HEXUS got some early snapshots of the top of the range R9 290X, you can read about that here. The computer processor company heralded its new Radeon range as the "first GPUs in a new era of gaming defined by UltraHD displays, renewed vigour in game engine development, and a new generation of gamers that expect a more immersive entertainment experience". Specs and technical details for the range are thin on the ground right now and are expected in follow-up presentations and events.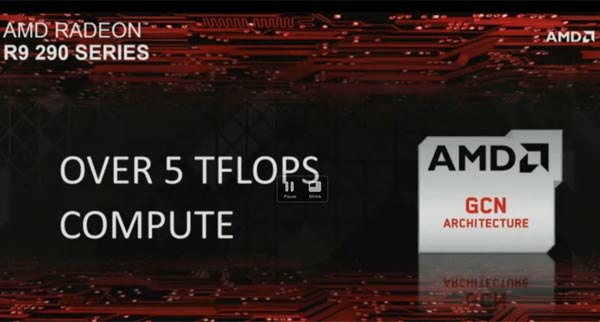 Last night AMD also talked about two other innovations; Mantle, which will help game developers write for multiple AMD platforms and AMD TrueAudio Technology which empowers game developers with a programmable audio pipeline on the GPU.
"The AMD Radeon R9 and R7 Series graphics cards are new GPUs for a new era in gaming," said Matt Skynner, corporate vice president and general manager, Graphics Business Unit, AMD. "This era is shaped by ultra-resolution gaming and an exciting new generation of highly-anticipated games like 'Battlefield 4.' But it's also an era shaped in a very powerful way by our own Unified Gaming Strategy; we've teamed up with the world's top game developers to establish a comprehensive portfolio of games that you can maximize to their full potential only with AMD Radeon graphics."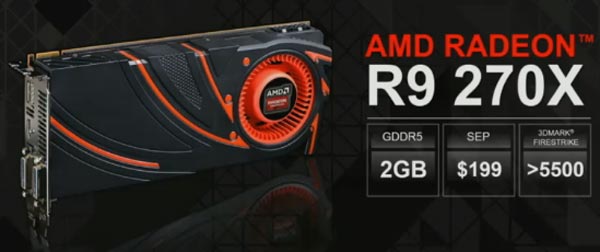 As mentioned in the intro, at the time of writing AMD hasn't supplied us with detailed spec tables about this new range of graphics cards, the event was more of an overall picture of things to come. There was some basic information shared about the range though, as you can see above, several of the cards had the amount of RAM, price and 3DMark Firestrike score revealed. The folks over at Anandtech have compiled that into a handy table, as below.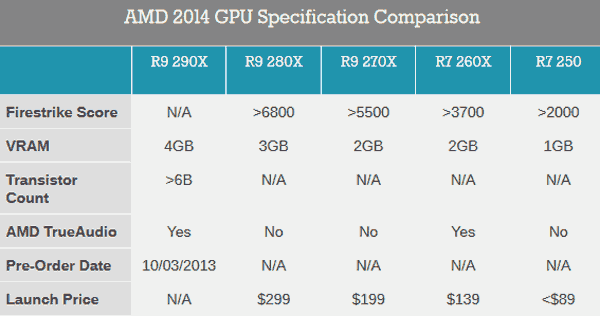 Mantle
AMD told us about its new Mantle technology last night. Mantle helps games developers write code to "speak the native language of the Graphics Core Next architecture, presenting a deeper level of hardware optimization no other graphics card manufacturer can match". Also Mantle facilitates a games development over several platforms "by leveraging the commonalities between GCN-powered PCs and consoles for a simple game development process". Mantle is also part of AMD's Unified Gaming Strategy – unifying PC, living room and cloud.
More information about Mantle will be shared at the AMD Developer Summit, APU13, in November.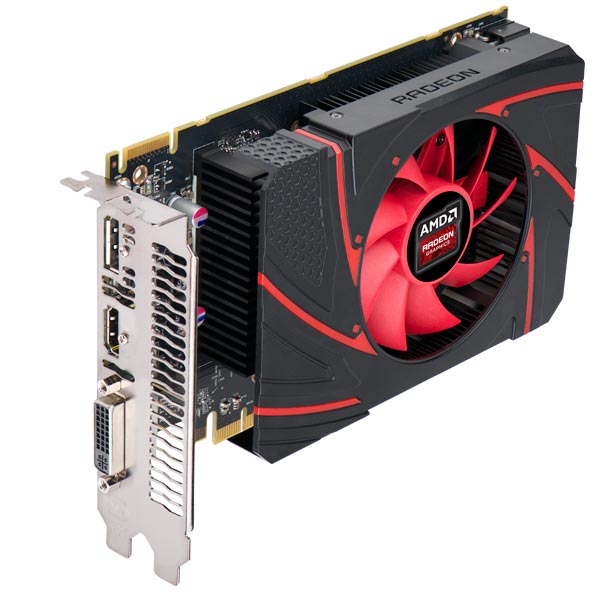 AMD TrueAudio
Some of the newly announced Radeon range support AMD TrueAudio which is supposed to mark "a new frontier in realism for PC gamers". AMD draws parallels with the "way that the programmable graphics pipeline brought unfettered artistic vision to PC graphics". By providing a programmable audio pipeline on the GPU AMD foresees more realistic in-game dynamic sounds, "breathtaking directional audio" and more.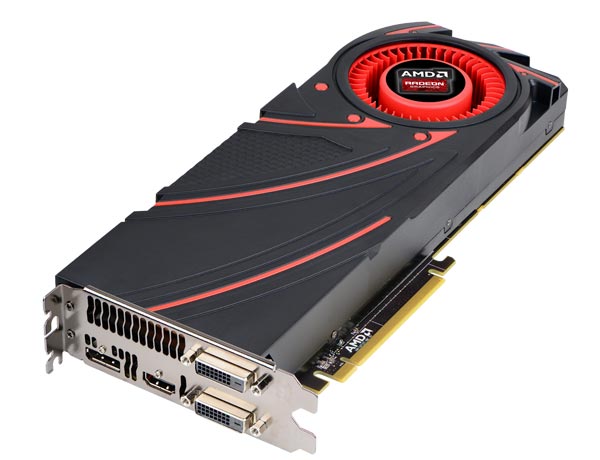 AMD Multi-Display technology for Ultra-resolution gaming
Last but not least AMD reminded us how the new range of graphics cards "are made for gaming on UltraHD (3840x2160) displays, including support for non-tiled 2160p60 displays with a future AMD Catalyst driver release". In addition AMD Eyefinity multi-display technology will be made more flexible to offer "virtually any combination of display outputs when connecting matching monitors" on a PC system.