AMD unveiled the cornerstone of its "industry-leading" cloud gaming platform, AMD Radeon Sky Graphics, at the Game Developers Conference (GDC) in San Francisco last night. This is to play a big part in AMD's Unified Gaming Strategy which "addresses how AMD will drive the gaming market across consoles, cloud platforms, tablets and PCs".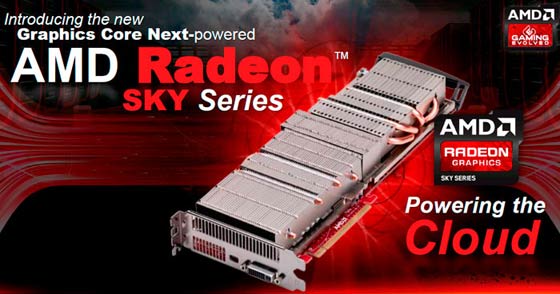 AMD Radeon Sky Graphics is built from the ground up on the AMD Graphics Core Next Architecture for "best-in-class" performance. The company hopes it will become the new standard behind cloud gaming. Of course, it's not just about rendering beautiful graphics remotely, in addition an AMD technology named RapidFire enables "highly efficient and responsive game streaming", which is of utmost importance to the user experience.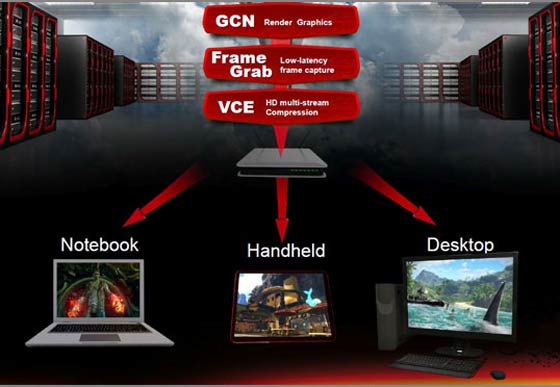 AMD Radeon Sky hardware
XBit Labs looked into further detail about what AMD hardware will be powering the cloud gaming datacentres. It found that there are three AMD Radeon Sky Series graphic boards available, known as the AMD Radeon Sky 500, the AMD Radeon Sky 700 and the AMD Radeon Sky 900. The Xbit Labs writer usefully compiled a table showing a more detailed spec for these graphic boards, reproduced below.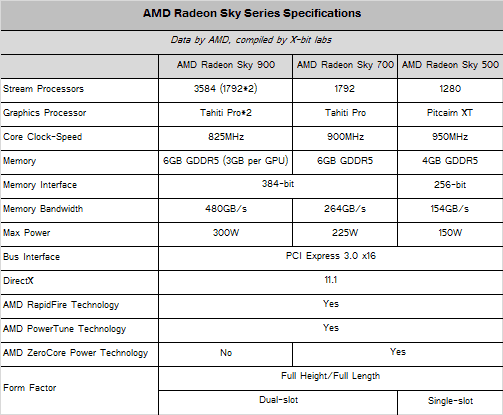 Interestingly Xbit Labs points out that, based on testing of the AMD Radeon Sky 700, each Sky series graphics board is capable of supporting "up to six HD games streams at once".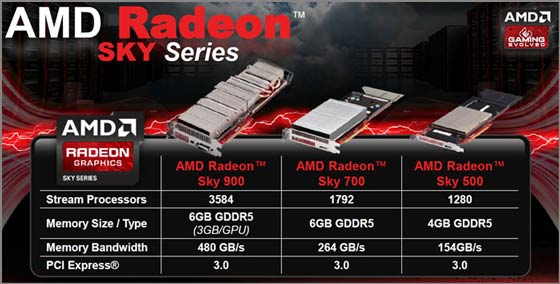 The cloud opportunity
Discussing the potential of cloud gaming David Cummings, senior director, AMD Professional Graphics said "Real-time gaming through the cloud represents a significant opportunity and AMD is poised to lead in this vertical thanks to our extensive graphics hardware and software capabilities," Naming business partners he added "AMD is working closely with CiiNow, G-Cluster, Otoy and Ubitus to deliver exceptional AMD Radeon gaming experiences to the cloud."
Radeon HD 7790 GPU and Ruby: Rebooted, Reborn, Reloaded
AMD also took the opportunity of the GDC event to remind attendees of the recent arrival of the AMD Radeon HD 7790 GPU (click link for the HEXUS review). Additionally the 10th anniversary of the Ruby demo was marked with a sneak peak at "Ruby: Rebooted, Reborn, Reloaded" which is still in production but is due "in the coming weeks".