AMD launched the Radeon HD 8000M Series of mobile graphics processing units at CES in Las Vegas last night. These are the first GCN architecture GPUs available to notebook manufacturers. The company says that "designs are currently shipping with ASUS and Samsung, with Lenovo and additional OEMs shipping soon". These high performance, app-accelerating GPUs are even suitable for ultrathins, according to AMD, due to their battery stretching AMD Enduro technology.

At the same event AMD announced the availability of AMD HD 8000 series graphics cards for OEMs. These cards feature GCN architecture, support for Direct X 11.1 (for optimal acceleration in Windows 8), AMD app accelerations and intelligent power management with AMD ZeroCore Power technology. Radeon HD 8000 series graphics will be available in desktops from several major OEMs as soon as "late January". However, these OEM graphics cards are mainly Radeon HD 7000 series cards rebadged to HD 8000 OEM cards to make them sound new and better. Even the lowly HD 5450 has been transmogrified into an HD 8350 OEM for the purposes of marketing.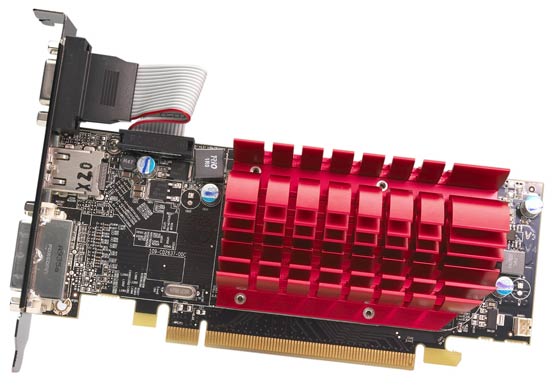 An example on a Radeon HD 5450 which will be rebadged for OEMs as an HD 8350 OEM
Matt Skynner, corporate vice president and general manager, AMD Graphics said of the launches "Today's simultaneous launches of our AMD Radeon HD 8000M Series for mobile and the AMD Radeon HD 8000 Series for desktop graphics symbolize a major milestone for AMD – we are now bringing the capabilities of our GCN Architecture, and full DirectX 11.1 support to a much broader market." He went on to say how these improved graphics processors can help users be more productive in multimedia applications and improve video and image quality whilst being power efficient.
You can find the full specifications for the AMD Radeon HD 8000M series here in a PDF.