The Radeon HD 7970 has stoked the fire that burns in every enthusiast's heart, but let's be honest, how many of us can afford to shell out over £400 on a new graphics card?
We're willing to bet it ain't many, so for those of you who are waiting for AMD's brand-spankin' Southern Islands architecture to trickle down to the mainstream, we've good news, as the wait may be shorter than anticipated.
According to the latest web-based rumour and speculation, the red team's mid-range Radeon HD 7770 will launch in February priced in the region of $150 (just under £100 excluding VAT).
The chop in price of course means a chop in specification, but the HD 7770 features a 28nm GPU that should still pack a punch. Codenamed 'Cape Verde,' the GPU is said to feature 896 stream processors, 56 texture units and 16 ROPs. The core is rumoured to be clocked at a staggering 1,000MHz, and it'll be attached to up to 2GB of GDDR5 memory via a 128-bit interface.
Could make for an interesting mid-range contender, and a forum user over at Chinese site ChipHell.com has purportedly put it through its paces.
There's no way of knowing if this is the final Radeon HD 7770 design, but the pictures look legitimate, and there's a close-up shot of the bare GPU that reveals how small (relatively speaking) the 28nm Cape Verde chip is. We can't imagine this one kicking out too much heat, and there's a good chance AMD partners will attempt passively-cooled derivatives.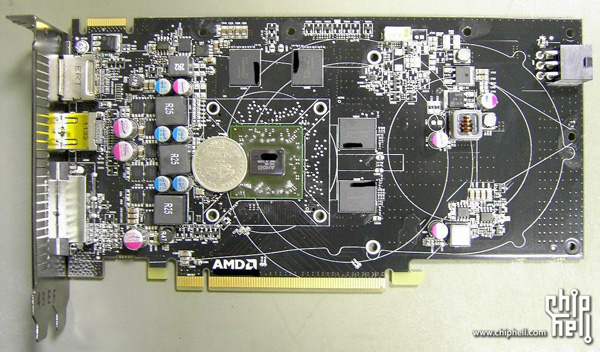 Where can we expect the Radeon HD 7770 to slot in? Well, it's too early to say, and we await confirmation of an official specification, but the above card has been benchmarked - on a yet-to-be-released Intel Ivy Bridge system, no less - and scored 3,421 in the 3DMark 11 performance test. By our reckoning, that puts it comfortably ahead of a GeForce GTX 550 Ti, but just behind a Radeon HD 6850. Either way, the first few months of 2012 are going to be hugely interesting as far as PC graphics are concerned.