Following in PowerColor's footsteps, VisionTek has announced that it will be combining an AMD GPU and a Bigfoot Networks' Killer NIC into a single latency-destroying package.
The aptly named Killer HD 5770 packs AMD's Radeon HD 5770 GPU along with a 1GB frame-buffer to provide some solid mid-range DirectX 11 performance. Of course, the special-sauce in this equation is the inclusion of a 400MHz Killer E2100 NPU right on the board. The dedicated network processor will completely bypass the Windows networking stack, clearing the way for low latencies and smooth, uninterrupted online gaming.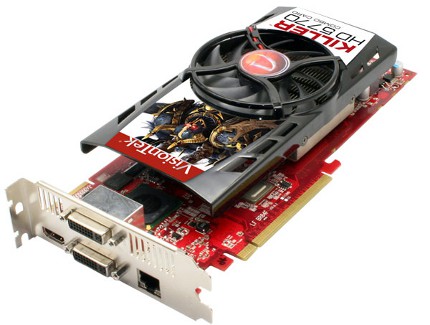 The package will obviously include Bigfoot's management software as well, allowing greater control over packet priorities and providing the tools to put the NPU to good use.
Obviously there are sacrifices to be made, though, and the big one here is Eyefinity support. To make room for the Ethernet port, VisionTek had to clear some space and unfortunately DisplayPort got the axe. While this will be fine for the home-theatre crowd, it means that the card looses the ability to hook up three monitors without buying a second graphics card.
If you're looking to save a few pennies on buying a Killer NIC and a new GPU, VisionTek's latest creation might be just up your street, especially if space inside your chassis is at a premium. However, the lack of Eyefinity support and the decidedly mid-range GPU are bound to put a lot of enthusiasts off.
The Killer HD 5770 will be available early this month in the US with a recommended retail price of a hair below $200 (£156 inc VAT). VisionTek doesn't have a European distributor, though, so a release on these shores is pretty unlikely.