There's nothing like a good bit of rumour-mongering.
A source from China posting on the ChipHell forums claims to have obtained full details on two upcoming AMD GPUs from documents given to an OEM. The Barts GPUs will form the mid-to-high-end Radeon series and are expected to directly replace the HD 5770 and HD 5750 cards.
According to the slide, the higher-end Barts XT will feature 960 shaders clocked at 850MHz and 1GB GDDR5 running over a 256-bit bus. There will also be 12 SIMDs, 48 texture units and 32 ROPs, all for a power draw of a little over 150W.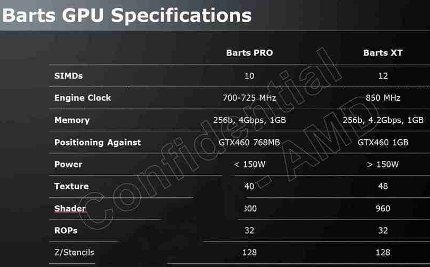 This compares favourably to the incumbent Juniper XT core found in the HD 5770, which runs at the same core clock but features only 800 shaders, 40 texture units, 16 ROPs and a 128-bit bus. While the 20 per cent increase in stream processors won't bring a massive improvement in performance, the wider bus should give the card a lot more room to breathe.
The Barts Pro core sees the same 20 per cent boost over the HD 5750, while also doubling the ROPs and bus width - though power-draw is left below 150W. Interestingly, this would mean that the new core will be architecturally quite similar to the older HD 5770.
The only other detail is the fact that these cards will be positioned against NVIDIA's GeForce GTX 460 1GB and 768MB, respectively. The slide claims that they will offer superior performance-per-watt to the competition, though efficiency has never been a strong point for the Fermi-architecture.
As ever, these are rumours and should be taken with a pinch of salt until any details are confirmed. We've seen more convincing looking leaks in the past, but we wouldn't be surprised if these specs were at least partly accurate.