AMD's top-of-the-line professional graphics-card - the FirePro V8800 - packed a lot of processing power, but was left strangely lacking in terms of outputs. Despite its 2GB of memory, the card was only given four DisplayPort connectors, leaving the workstation-crowd without a single-card solution to power a six-monitor Eyefinity set-up.
The manufacturer is righting this wrong, though, with the launch of the V9800. The frame-buffer has been doubled-up to 4GB and the card can now drive a full-complement of six monitors simultaneously.
Other than needing a 6-pin and an 8-pin power connector - as opposed to two six-pin connectors - the card is largely the same as the V8800, which in turn is essentially a consumer Radeon HD 5870. This means that you'll get 1600 stream-processors clocked at 850MHz, while the GDDR5 is set to an effective 4,800MHz.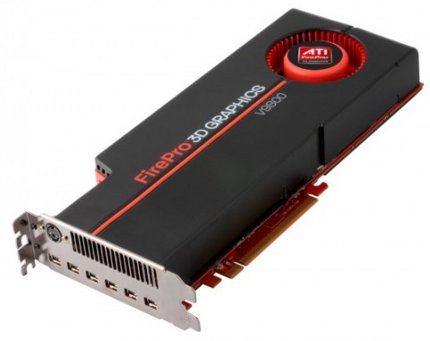 You'll obviously find support for DirectX 11, OpenCL and DirectCompute as well as a full 30-bit display pipeline for more accurate colour-reproduction.
To make building an Eyefinity set-up a little easier, AMD has also chosen to include one dual-link and five single-link active Mini DisplayPort-to-DVI adapters with the card. However, at the price, you'd expect an extra or two. The FirePro V9800 is set to retail for a whopping $3,499 (£2,729 including VAT) - more than twice the $1,499 MSRP of the V8800.
Considering that the performance improvements are expected to be marginal, AMD clearly puts quite the premium on 6-way Eyefinity support. For those interested, the company's new flagship professional video-card should be available soon.