With AMD's Radeon 6000-series GPUs expected to be announced in the next month or so, the rumour-mill is cranking up to full-speed leaking morsels of information to the world. The latest claim to be photos of two upcoming cards - one from the top of the company's range, and another from considerably lower down the scale.
Cayman
Posted on the forums at Chiphell, the first card is supposedly based on the Cayman XT GPU, which would become the Radeon HD 6870. Obviously there aren't too many details that we can pull from a picture, though the backplate is quite unusual. There appear to be two DVI, one HDMI and two Mini DisplayPort outputs, potentially allowing for four- or five-way Eyefinity set-ups. Of course, it's possible that - like the incumbent cards - not all of the outputs can be used simultaneously.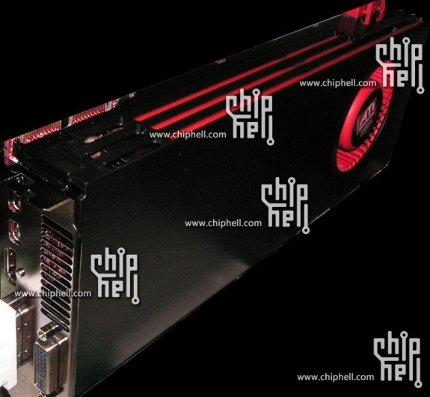 Other than that, the only visible details are two CrossFire-connectors, two PCIe power-adapters and a red and black shroud similar to those used on high-end 5000-series cards. Interestingly, the fan is emblazoned with an ATI sticker, though this might just be because it is an early sample.
Caicos
The second picture purports to be a part of the 6300-series, powered by the Caicos GPU. This is clearly a lower-end card since it features a low-profile, single-slot, passively-cooled design. According to the source, the card has a 64-bit memory interface, 1GB DDR3 and two outputs. While one is probably a DVI port, the other could be either HDMI or a full-size DisplayPort connector.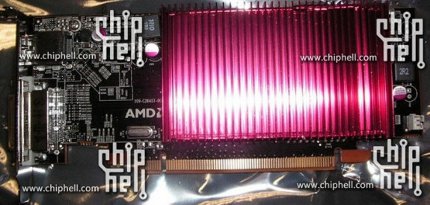 It shouldn't be too much longer until the official announcement of the 6000-series cards, but until then we can all but guarantee that various leaks will continue to fuel rumours about these new GPUs.