Having being teased with the codenames of AMD's Radeon HD 6000-series GPUs earlier this week, a screen-shot of a benchmark may now reveal how the upcoming flagship card will perform.
The screen-grab was posted on a Chinese forum and shows the results of a 3DMark Vantage run. Reportedly from a card that will become the HD 6870, the results show a score of X11963. This compares to around X9000 for an HD 5870 and somewhere close to X10000 for NVIDIA's top-of-the-line GeForce GTX 480.
This is a sizeable improvement considering that the new GPUs are to be based on the same basic design as the HD 5000-series cards, it is commonly understood.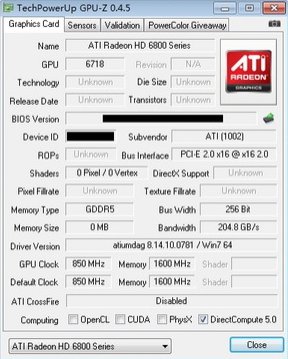 The only other details are that the core was clocked at 850MHz while the memory was running at 1,600MHz, or an effective 6.4GHz. Since this is the same GPU frequency as the HD 5870, the performance increase is likely to have come from increasing the shader count over the older card's 1,600.
The memory speed is a little anomalous, having been increased by 400MHz (1,600MHz effective) over the current-generation's 1,200MHz GDDR5. The increase isn't impossible, but it would be quite the achievement by AMD's engineers. Of course, this could be an overclocked card or an engineering sample with non-reference frequencies.
This is completely unverifiable, and with nothing else to go on, the screenshot could easily be a fake. Unfortunately, we won't know for sure until the cards are officially unveiled, which is expected to happen in the coming months.