Albatron has today rolled out a slightly unusual graphics card in the form of its GeForce 9500 GT PCIe x1.
The card, pictured below, is a custom take on NVIDIA's GeForce 9500 GT and sports a PCIe x1 interface - useful, we reckon, for users working on one of many mini-ITX motherboards that don't offer a PCIe x16 slot.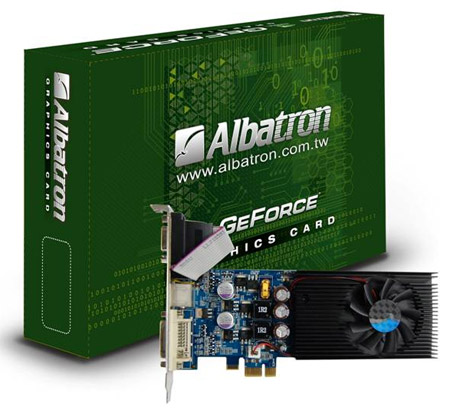 According to Albatron's specification, the card's GPU will be clocked at 550MHz, its 32 shaders will operate at 1,375MHz and the 256MB of GDDR3 memory will be hooked up to a 128-bit interface and run at 1,400MHz.
If you're struggling to see the point, Albatron points out another usage scenario - drop the card into an existing build (presuming you've a free PCIe x1 slot) and you're immediately opening the door for multi-display setups. The card can drive displays up to 2,560x1,600, and is equipped with DVI, VGA and HDMI (via adaptor) connectivity.
No mention of pricing, but it's an interesting little card and one of the quickest PCIe x1 solutions we've seen.
Official press release: Albatron Brought PCI-E 1X Graphics Board To The Market