AMD's Radeon Pro W5700X GPU is a configuration option in the latest Apple Mac Pro computer. This adds another choice for a system that could already be kitted out with the AMD Radeon Pro Vega II and AMD Radeon Pro 580X GPUs ahead of the online check out. This 7nm GPU is based upon the full Navi 10 die with 2560 stream processors / 40 compute units, joined by up to a whopping 16GB of GDDR6 memory.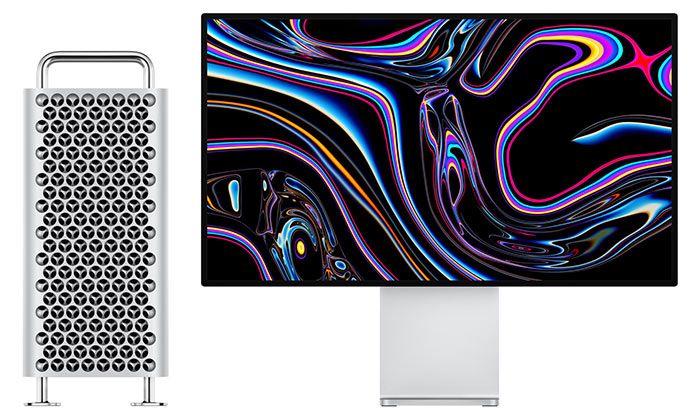 "The new Apple Mac Pro provides professionals with leadership levels of performance and memory bandwidth to power high-end creative applications," said Scott Herkelman, CVP&GM, Radeon Technologies Group at AMD, in a press release. "With multiple advanced AMD Radeon Pro GPUs to choose from, customers can select the best Mac Pro configuration to tackle the heaviest of workloads, unleash creativity and increase productivity."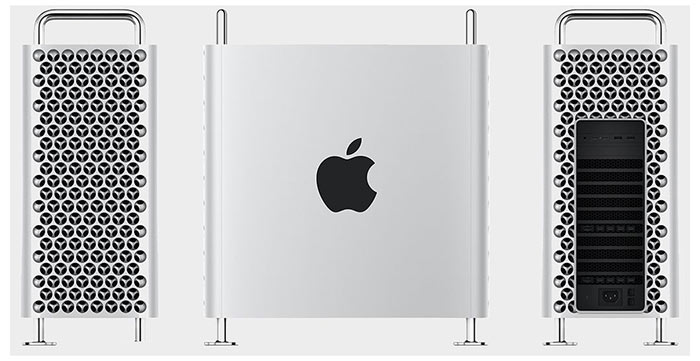 AMD doesn't appear to have added the Radeon Pro W5700X GPU to its official product pages as yet, perhaps because it may be an exclusive Apple Mac build option. The nearest listed professional product is the Radeon Pro W5700 with 2304SPs / 36CUs and 8GB of GDDR6. This still offers 448GB/s memory bandwidth but its peak FP32 performance is 8.89TFLOPS compared to 9.5TFLOPs for the Radeon Pro W5700X. Furthermore, some content creators will much prefer the option of 16GB of onboard graphics memory with the W5700X.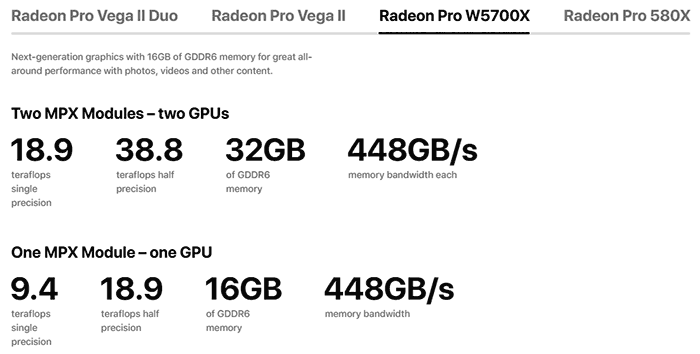 Apple facilitates multiple GPUs via its MPX module system boasting that a dual Radeon Pro W5700X powered system has access to 18.9TFLOPs of performance and 32GB GDDR6.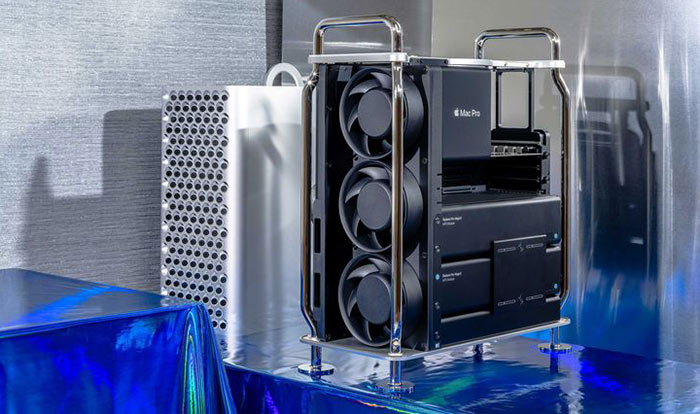 Apple's new Mac Pro offers an extensive array of build to order options. The machine can come with from an octa-core to 28-core Intel Xeon W processor, up to 1.5TB of DDR4 RAM, up to twin Radeon Pro W5700X with 16GB of GDDR6 memory each, up to 8TB of storage, an Apple Afterburner card for video processing acceleration, plus various peripherals. Maxing out the specs and selecting to have castors fitted (GBP£360/US$400) brings the price to over £48,000 / over US$53,000. However, the starting price is 'just' £5,499/$5,999.