A notably absent feature in the new AMD Radeon RX 5700 series cards is multi-GPU support. Radeon RX Vega cards supported CrossFire, as did various previous generation GPUs, but this feature is sadly lacking in AMD's first crop of 7nm Navi GPU based graphics cards.
At the recent Hot Chips Symposium, a member of the press wanted to know: what were AMD's plans with multi-GPU – following the RX 5700 series 'signal'. AMD CEO Dr Lisa Su, no less, answered the question as follows: "To be honest, the software is going faster than the hardware, I would say that CrossFire isn't a significant focus".
Unfortunately the statement as quoted is somewhat open to interpretation. TechPowerUp, for example, reckons that it means that CrossFire support in games is "enabled as more of an afterthought than a 'focus', and that's just the way things are". Going forward it reasons that multi-GPU will be brought into hardware via MCM, so the support software side of things is done away with.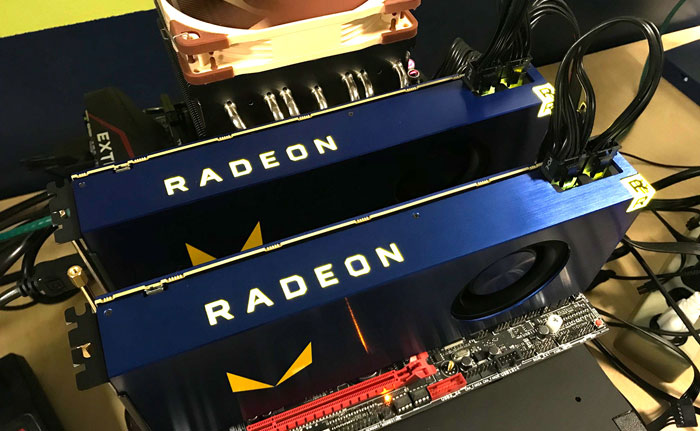 The green team aren't putting that much focus on their rival SLI multi-GPU technology either. Only the higher-end Nvidia cards in the current Turing stable support SLI (i.e. GeForce RTX 2070 and Super, RTX 2080 and Super, RTX 2080 Ti, and Titan RX) via NVLink.
Interestingly Intel might be going in a different direction. It was recently noticed that a new Linux driver signalled the arrival of Intel Xe iGPU + dGPU multi-GPU support. Intel will be marketing Xe as a scalable platform that spans across iGPUs to data centres "so an SLI/CrossFire-esque support from the beginning is not outside the realm of possibility," pondered NoteBookCheck.