While there has been a deluge of information about the latest 'Super' graphics cards from Nvidia in the last few hours, many are even more watchful for developments coming out of the AMD Radeon camp. There have been some genuine-looking AMD Radeon RX 5700 and RX 5700 XT leaks in the last few hours, but unfortunately they are more to do with presentation than substance - graphics card packaging.
Two sources have revealed an abundance of AMD Navi graphics card packaging designs; Momomo US, and VideoCardz. The former shared an Imgur link which appears to bristle with photos of the reference AMD Radeon RX 5700 and RX 5700 XT cards in their packaging, the latter has lots of packaging and product shots from AMD's AiBs.

Starting with the reference card packaging, the Radeon RX 5700 comes in a nicely designed but humdrum multi-layered box in an outer sleeve. It looks easily adaptable for AiBs, and perhaps some will use a similar design for both regular and XT offerings - simply for economy.

Moving along to the Radeon RX 5700 XT packaging, this follows the packaging as presentation case design philosophy which we have seen quite a bit of recently. This will be great for collectors many years from now but at this time, most people will install these GPUs in their PCs and squirrel the packaging away in the attic…
The AMD Radeon RX 5700 XT packaging and the Radeon RX 5700 XT AMD 50 packaging looks to be the same but with red, and gold accents respectively.
Third party cards in evidence so far all look to follow the AMD reference design. This means the VideoCardz exposé isn't very exciting - however it is quite extensive, showing what is coming up from six well known, and lesser known, brands.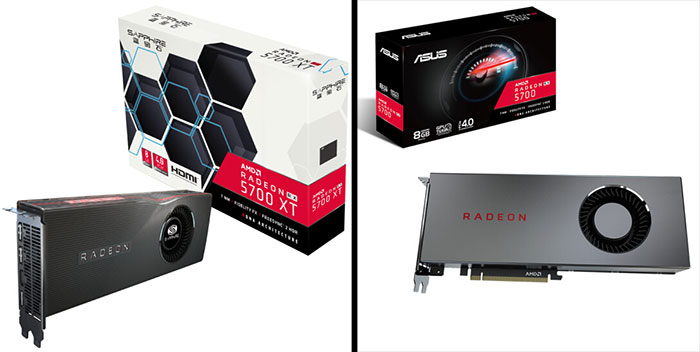 Sapphire probably has the funkiest packaging but it will be more interesting to see its custom cooler designs in the weeks to come.
As a reminder, AMD's 7/7 event is this Sunday and these graphics cards will become available from that date. Furthermore, PC gamers and enthusiasts are on tenterhooks waiting for independent third-party thorough reviews of the first Navi-GPU based graphics cards, as well as the AMD Ryzen 3000 series CPUs for desktop PCs.