AMD has quietly launched the new Radeon Pro WX 3200 graphics card. This product fits into a niche which AMD sees within the AEC (architecture, engineering and construction) and manufacturing industries, for an ISV-certified graphics card that will fit into small form factor CAD workstations. Moreover, the low-profile single slot Radeon Pro WX 3200 delivers its "balance of performance and stability" within a sub-$200 budget.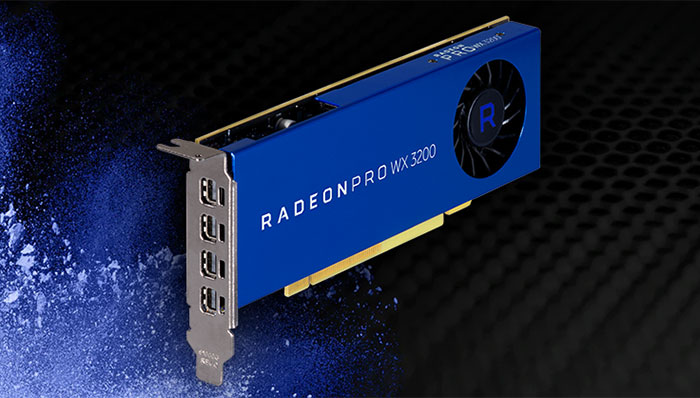 In a blog post about its compact and affordable new professional graphics card, AMD says it has been ISV certified for the use with the following software: ACCA Software, Altair solidThinking Inspire, ANSYS, Autodesk Inventor, Autodesk Revit, Autodesk VRED Professional, Bentley Systems MicroStation, Beta CAE Systems, CGTech VERICUT, CNC Software Mastercam, COMSOL Multiphysics, Dassault Systemes Abaqus, Graphisoft ArchiCAD, Hexagon Apex Iberian Lynx, Hexagon Marc/Mentat, Hexagon Patran, Siemens PLM Software Solid Edge, and more.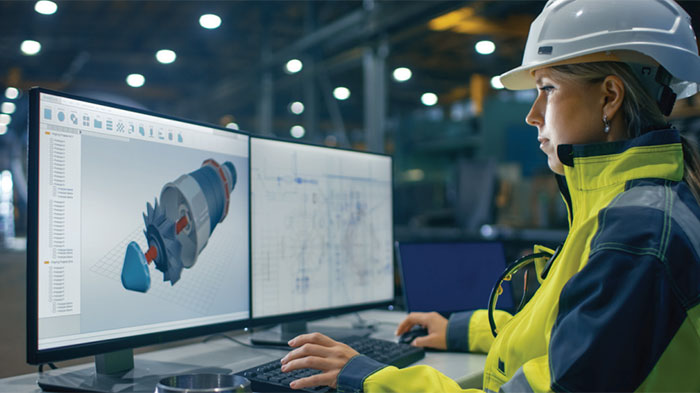 In terms of graphics processing capabilities, AMD says the new Radeon Pro WX 3200 is 33 per cent faster than its WX 3100 predecessor, delivering 1.66 TFLOPS peak single precision compute performance.
Inside the AMD Radeon Pro WX 3200 there is a 14nm Polaris GPU with 10CUs and 640 stream processors. It is paired with 4GB of GDDR5 memory on a 128-bit interface providing 96GB/s of bandwidth. As well as being very compact the WX 3200 doesn't require any extra power connector, it can get its peak 50W from the PCIe slot. Connectivity is via 4x Mini-DisplayPort 1.4 ports - and this GPU can drive up to 4x 4K displays or a single 8K display with 10-bit colour.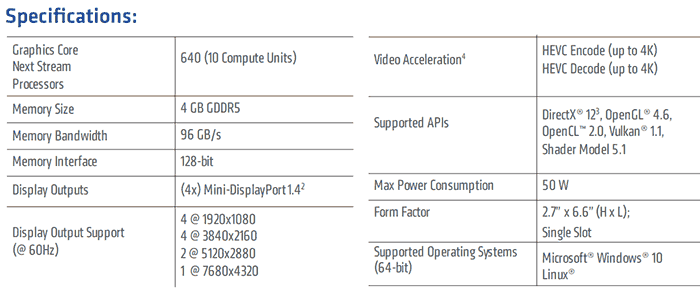 AMD Radeon Pro Software for Enterprise is the driver set for this graphics card, as well as other AMD Radeon Pro family GPUs, and is updated quarterly with a focus on performance enhancements, stability fixes, and new or updated features. APIs supported include; OpenCL, DirectX, OpenGL, and Vulkan.
AMD says that the Radeon Pro WX 3200 graphics card will become available for US$199 in Q3 this year from leading etailers. It will also begin to appear in updated workstations from the likes of Dell, HP, and Boxx this summer. I note that there is a mobile version of this GPU too.