AMD has emailed HEXUS with details of its upcoming E3 product showcase. It has long been suspected that AMD would use E3 rather than Computex 2019 for consumer-centric technology announcements, and this appears to have been confirmed by the email. At The Novo at L.A. Live on Monday, 10th June, 2019, at 3pm PT (11pm BST), AMD will hold a fan event dubbed the 'Next Horizon Gaming' event, as part of E3 2019.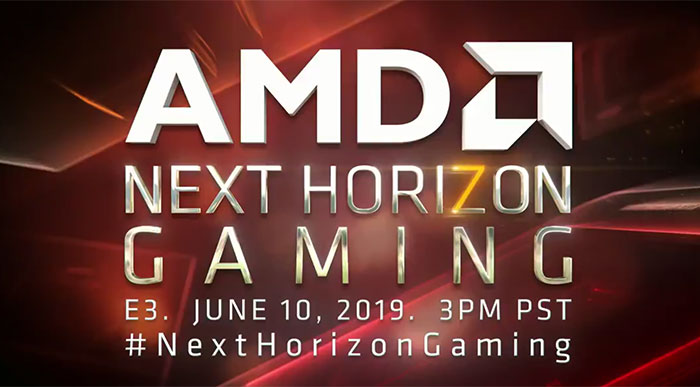 Note: AMD's highlighting of the '7' in 'HORIZON' - could it mean 7nm, or RX 700 series GPUs?
The Game Awards creator Geoff Keighley will host AMD's special event and be welcoming AMD president and CEO Dr. Lisa Su to the stage, as well as a number of leading games developers involved in anticipated new titles.
Importantly, we are told that the event will centre upon the unveiling of "AMD's next-generation gaming products that will shape the future of PC, console and cloud gaming for years to come." Furthermore, we are promised glimpses of never before seen games content, which is good for a games-orientated show.
If you want to watch the AMD Next Horizon Gaming E3 event in person it is possible to register here. Alternatively it will be possible to watch a live-stream via YouTube or Facebook. A few hours after the event closes a recording will be available on YouTube too.
Computex livestream
The above news comes hot on the heels of AMD announcing that Dr. Lisa Su's Computex keynote will be live-streamed. If you are interested in tuning into the Taiwan-based event keynote it will be available to watch at https://www.amd.com/en/events/computex or via AMD's YouTube channel, as linked above. This event and broadcast time is scheduled for Monday, 27th May at 10am Taipei Standard Time (3am BST).