At CES 2019 Asus is showing off an interesting new graphics card design dubbed the ROG Matrix GeForce RTX 2080 Ti. The name doesn't give its little secret away - this powerful new graphics card folds into its 3-slot design a complete AiO cooling solution - you won't / don't see any tubes, radiators or cooling blocks here. Highlighting this subterfuge, in our video featuring Asus's David Yang, the new Asus ROG Matrix 2080 Ti is shown side by side with the 3-slot Strix design - it looks very much the same.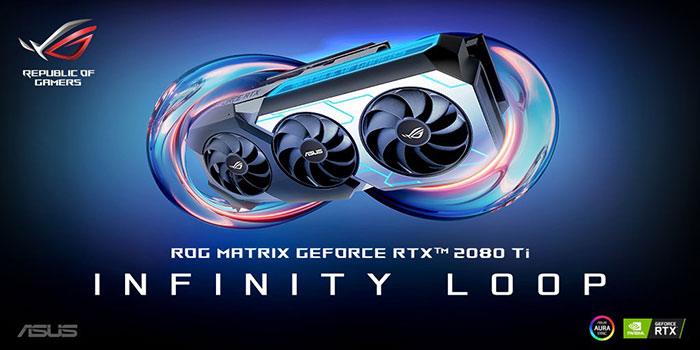 Highlights of the new Asus ROG Matrix 2080 Ti are as follows:
Users benefit from approx 11 per cent GPU overclock compared to the Founders Edition out-of-the-box, with faster GDDR6 clocks too
The Matrix features a unique all-in-one closed-loop cooling system
The 3-slot footprint brings previously impossible performance to small chassis and air-cooled builds
Each card is binned and tuned to deliver top out-of-the-box clock speeds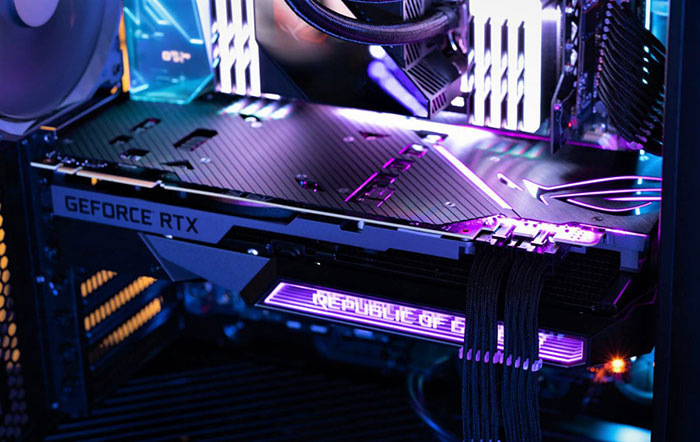 Thanks to Asus working for two years on this 'Infinity Loop Cooling' design users should benefit from the best out-of-the box Turing GPU experience available. In Asus ROG's own tests the triple fan Matrix "beats competing hybrid designs with 120mm radiators and goes head to head with 240mm radiator configurations," all in the space of three slots.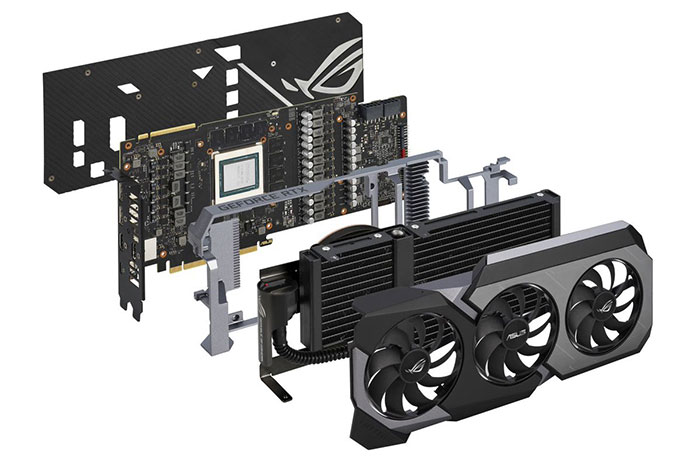 In the video HEXUS recorded at CES, David Yang from Asus said that the new ROG Matrix 2080 Ti offers the same temperature and acoustics as the Strix model but with higher GPU and memory overclocking. It was explained to us that a major part of the design, so the AiO cooler is able to fit and function, relies on a new cooling plate design that has a much larger surface area than normal.
Loading...
Been waiting a while?
Get Flash
to see this player.
David Yang of Asus talks us through the features and benefits of the ROG Matrix 2080 Ti
When the card is not under load it can dial back cooling and switch to 0dB technology (when below 55C).
Elsewhere in the Asus ROG Matrix 2080 Ti design you will see that it features Aura Sync RGB LED lighting, metallic and carbon fibre outer construction. Ports include; two DisplayPort 1.4, two HDMI 2.0b, and a USB Type-C VirtualLink video output. Two 8-pin PCIe power inputs are provided to feed this 300W rated card.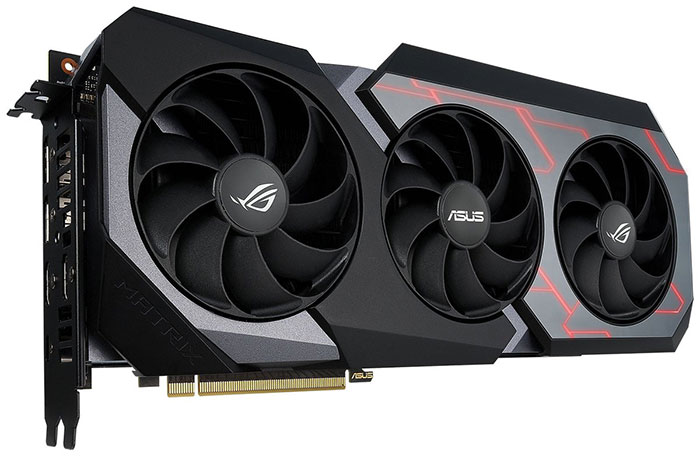 ROG-MATRIX-RTX2080Ti-P11G-GAMING
Nvidia CUDA Cores: 4352
Engine Clock (OC Mode):1815MHz (Boost Clock), 1350MHz (Base Clock)
Engine Clock (Gaming Mode):1800MHz (Boost Clock), 1350MHz (Base Clock)
11GB GDDR6 Memory
Memory Clock: 14800 MHz
2 x Native HDMI 2.0b Output
2x Native DisplayPort 1.4
1x USB Type-C
Power Connectors: 2x 8pin
Total Graphics Power: 300W
David Yang from Asus said the ROG Matrix 2080 Ti will be available soon, from late Q1. Pricing is yet to be revealed.