AMD released a statement timed to coincide with Apple's announcement of an impending MacBook Pro update. Apple will refresh the 15-inch MacBook Pro in November and it will come with a choice of mobile GPUs including the new AMD Radeon Pro Vega 20 and Radeon Pro Vega 16 graphics. AMD says these GPUs "deliver amazing performance in 3D rendering, photo and video editing, and other creative applications, as well as stunning 1080p HD gaming at ultra settings in today's top AAA and eSports games".

The new premium laptop GPUs are based upon the AMD Vega architecture, as per name. AMD says they are built on the 14nm FinFET process and are both powerful and efficient. Vega technology such as next-generation compute units (NCU) and Rapid Packed Math can speed along complex computations and heavy workloads. The GPUs are backed by their own HBM2 memory.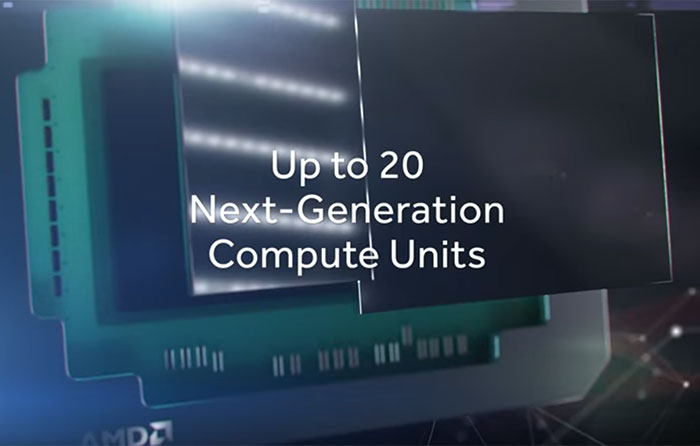 While the press release is light on details, thankfully the accompanying YouTube video confirms that the numerical suffix is an indication of the number of next-gen compute units in the GPUs. Thus the AMD Radeon Pro Vega 20 has 20 CUs and 1280 Stream Processors (and the 16 CU model has 1,024 Stream Processors).
In the Apple press release about the new MacBook Air, it briefly mentioned the news that Radeon Pro Vega Graphics are coming to MacBook Pro next month. According to Apple's own testing, AMD's Radeon Vega Mobile solutions "deliver up to 60 percent faster graphics performance for the most demanding video editing, 3D design and rendering workloads".

AMD announcement slide from CES 2018
At the time of writing we have no information about Windows-based laptops coming equipped with the Radeon Vega Mobile discrete graphics processors. However, AMD previously has publicised Vega Mobile as a solution for laptops in general, so it looks likely that PC systems makers will equip these GPUs as options in select laptop models.