Arm has launched some new processor IPs that it claims will help deliver a premium experience to millions more customers. The suite of new products includes the Mali-G52 and Mali-G31 GPUs, the Mali-D51 Display Processor, and the Mali-V52 Video Processor. These products will help mainstream devices achieve good performance for 3D gaming, mixed reality, and introduce more customers to the benefits of machine learning (ML).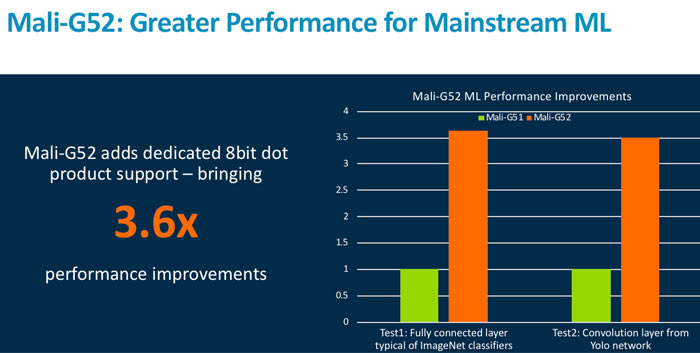 Arm Mali-G52 and Mali-G31 GPUs
The above named GPUs address the next gen mainstream and next gen ultra-efficient markets, respectively. More specifically Arm says that it envisions Mali-G52 with its brand-new execution engine design supporting premium use cases like Machine Learning (ML) and Augmented Reality (AR) in mainstream devices, and the Mali-G31 (its smallest GPU to date) supporting the latest APIs for graphics development and complex User Interfaces for DTV. Both GPUs are built upon the Bifrost architecture and support OpenGL ES 3.2 and Vulkan.
The Arm Mali-G52 boasts significantly improved performance over its predecessor, the Mali-G51. Highlights in performance are bullet pointed below:
30% more performance density: Mali-G52 utilizes wider execution engines with up to 8 pipelines compared to the four of its predecessor to provide greater graphics performance in the same silicon area
15% energy efficiency reduces the power consumption and thermal output of your device and supports greater game time for even battery-draining technologies like AR
3.6x the ML performance of the previous generation product ensures next-gen ML use cases are supported across all tiers of device
Arm says that partners can choose two or three execution engines per core, and up to four cores making this GPU rather scalable depending upon designer priorities. As well as opening up ML technologies such as object recognition, translation services, and a personalised UX, this GPU will be powerful enough for AR experiences reckons the chip designer.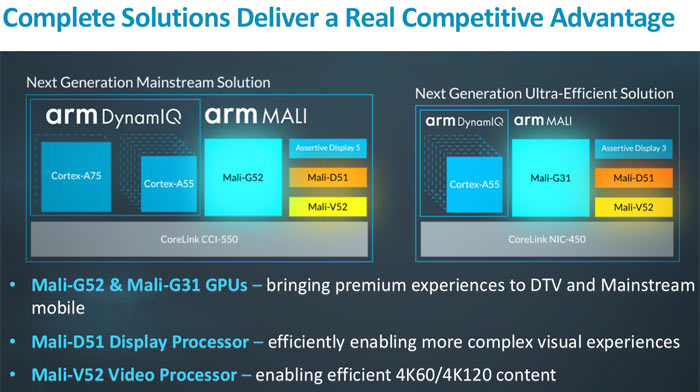 Arm's Mali-G31 GPU tries to combine an exceptional user experience with extreme compactness. It is thought that this will be a preferred solution among digital TV makers. Highlights of the Mali-G31 are as follows:
The first Ultra-Efficient GPU to be built on the innovative Bifrost architecture
Arm's smallest processor to support OpenGL ES 3.2 and the latest generation Vulkan API, giving developers access to millions more devices
20% smaller, with 20% better performance density than its Bifrost predecessor, Mali-G51, saving silicon area while saving silicon area and delivering exceptional energy efficiency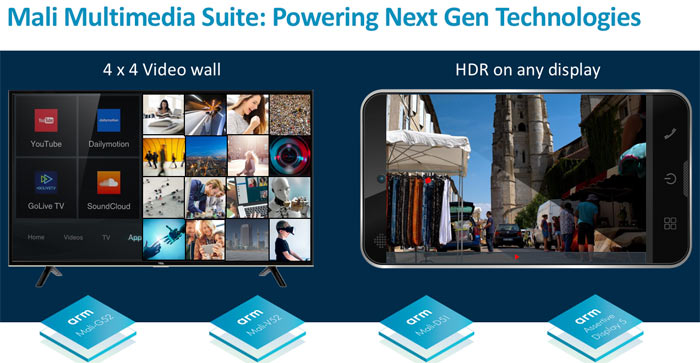 Meanwhile supporting components like the Mali-D51 Display Processor, and the Mali-V52 Video Processor major on power saving, efficiency, scene complexity, latency, image quality (HDR) and aim to improve 4K decode performance on mainstream devices.