If you remember back to September, you will recall AMD's Radeon Technologies Group (RTG) chief Raja Koduri, signalled that he needed a break and then went off on sabbatical. At the time the publically facing plan was to return to AMD refreshed and reinvigorated in December. However, by early November, Koduri seemed to have had a change of heart and, as revealed in the HEXUS exclusive, decided to leave AMD for pastures new. Shortly after that report we learned that the new pastures were blue and owned by Intel.
Since the time of the sabbatical, AMD's CEO Dr Lisa Su has been filling in as head of RTG, a situation that is, of course, not ideal. Yesterday evening AMD officially released a statement about new senior management coming to RTG. This will give RTG the full time management it deserves / needs and allow Su to get back to concentrating on the company operations as a whole.
The new appointments are of Mike Rayfield as senior vice president and general manager of RTG, and David Wang as senior vice president of engineering for RTG. Rayfield will work on strategy and business management for AMD's graphics business including consumer graphics, professional graphics, and semi-custom products. Wang will take on the technical roles left vacant by Koduri's departure; graphics engineering, including the technical strategy, architecture, hardware, and software for AMD graphics products and technologies.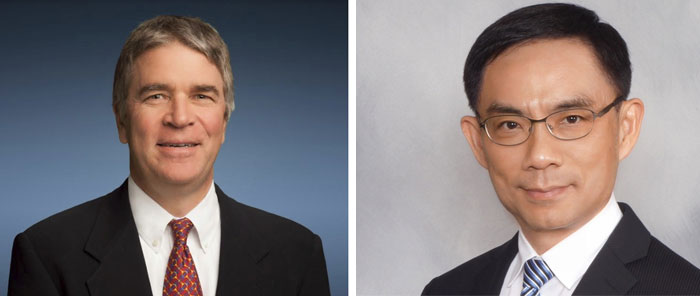 Rayfield & Wang
Highlights of the new SVPs at AMD RTG are as follows:
Mike Rayfield:
30 years tech industry experience.
Previously at Micron Technology (SVP of Mobile Business Unit).
Prior to Micron, Rayfield was a GM working in Nvidia's Mobile Business Unit.
At Nvidia, Rayfield led the team that created Tegra processors
David Wang:
25 years of graphics and silicon development experience
Previously at Synaptics (SVP of Systems Silicon Engineering)
Prior to Synaptics, Wang was CVP of SoC development of AMD processor products.
Previously Wang has held technical and management positions in companies such as ATI, ArtX, SGI, Axil Workstations, and LSI Logic.
Dr Lisa Su commented upon the new appointments, referring to them as industry leaders with proven track records in their respective fields. "Under Mike and David's leadership, I am confident we will continue to grow the footprint of Radeon across the gaming, immersive, and GPU compute markets," asserted the AMD CEO.
We must hope that the new dynamic duo heading up RTG can hit the ground running to stiffen AMD's competition against Nvidia. Furthermore, there could be new competitive pressure from Intel with Koduri heading up its graphics products development as the SVP of the Intel Core and Visual Computing Group. Remember that Intel has "exciting plans to aggressively expand our computing and graphics capabilities".