Sapphire has written to HEXUS regarding a new member of its Pulse range. The AMD-exclusive graphics card maker has readied the Sapphire Pulse Radeon RX Vega 56. As many PC enthusiasts will know, the Sapphire Pulse line delivers modern AMD GPUs at a keener price point than high end ranges such as the Nitro+. In order to provide the best value the Pulse series targets core features that matter most to gamers – power and cooling. HEXUS has recently published reviews of both Sapphire Pulse and Nitro+ products.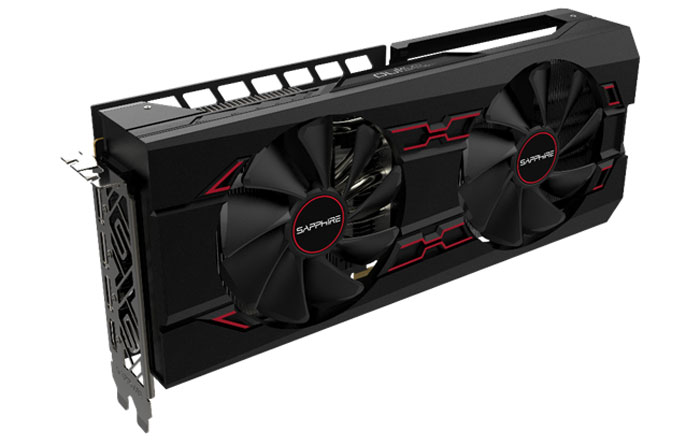 According to Sapphire the key features of the new Pulse Radeon RX Vega 56 are as follows:
Factory overclocked to 1,512 MHz boost clock
Efficient dual-fan cooling
Stylish PULSE backplate and radiator shroud design
AMD's Radeon RX Vega 56 chip, as featured on this card utilises 3584 Stream Processors running with a factory overclocked 1512 MHz Boost Clock. It is paired with 8GB of second gen HBM clocked at 800 MHz (1600 Mbps Effective). There's a hardware switch on top of this card with which you can switch down gears to an efficiency preset for lower temperatures, reduced power draw, quieter cooling, thanks to its tuned down clock speed.
The cooling solution provided with the Sapphire Pulse Radeon RX Vega 56 is Sapphire's Dual-X cooler. It features a large heatsink with a copper base and a set of four 8mm heatpipes. Sapphire has designed the heatsink to extend beyond the length of the PCB for increased heat dissipation. It hasn't forgotten the VRM section either – this has its own cooling module with separate heatsink connected to a 6mm heatpipe.
Active cooling comes courtesy of two 92mm dual-ball bearing fans, just like in the Nitro+. The Pulse fans run between 0 – 1650RPM nominally but have a max speed of 330RPM.
All the above is delivered at a value price without compromises in quality, asserts Sapphire. For example the Pulse still features the latest generation of Black Diamond Chokes for reduced coil temperatures and better power efficiency, and the external PCI-E power connectors feature a fuse protection.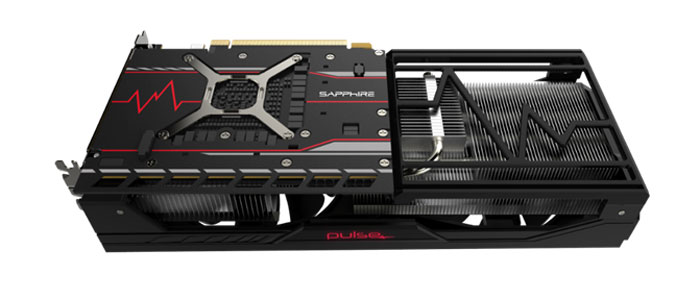 If you budget allows a little more latitude, Sapphire would like to draw your attention to the Nitro+ Radeon RX Vega 56. It casts shade on the Pulse with its core boost clock of 1,550MHz, Nitro Glow RGB LEDs on the back and side, 12 phase power design, triple fan cooler, and a copper-based main cooling module. Furthermore, it comes bundled with the Nitro Gear Card Support Bracket.
Sapphire says that the new Pulse Radeon RX Vega 56 will be available from 12th Feb. However, the Sapphire Nitro+ Radeon RX Vega 56 is available now at selected etailers and retailers worldwide.
Model

Sapphire Pulse Radeon RX Vega 56

Sapphire Nitro+ Radeon™ RX Vega 56

Memory

8GB HBM2 2048-bit

8GB HBM2 2048-bit

SPs

3584

3584

Compute units

56

56

Boost clock

1512 MHz

1550 MHz

Base clock

1208 MHz

1266 MHz

Memory clock

800 MHz (1.6 Gbps)

800 MHz (1.6 Gbps)

Cooling system

2x 92 mm dual-ball bearing fans
Nominal speed: 0~1650 RPM
Maximum: 3300 RPM
Main module:
Heat pipes (4x 8 mm)
Copper base
VRM module:
Heat pipes (1x 6 mm)
Aluminum base

2x 92 mm dual-ball bearing fans running anticlockwise (left & right)
1x 80 mm dual-ball bearing fan running clockwise (middle)
Nominal speed: 0~1500 RPM
Maximum: 3200 RPM
Main module:
Heat pipes (3x 8 mm + 3x 6 mm)
Copper base
VRM module:
Heat pipes (2x 6 mm)
Aluminum base

Outputs

1x HDMI 2.0b
3x DisplayPort 1.4

2x HDMI 2.0b
2x DisplayPort 1.4

Interface

PCI-Express 3.0

PCI-Express 3.0

Power Design

7 Phase Digital Power

12 Phase Digital Power

Power

2x 8-pin

2x 8-pin

PCB Layers

6

8

Form factor

2.5 slot, ATX, 282 x 125 x 50 mm

3 slot, ATX, 310 x 133 x 54 mm

Special features

Dual UEFI Bios
SAPPHIRE Quick Connect 2
Intelligent Fan Control III
Precision Fan Control
Black Diamond Chokes 4th gen
Fuse protection

Dual UEFI Bios
NITRO FanSafe and Fan Health Check
SAPPHIRE Quick Connect 2
Intelligent Fan Control III
Precision Fan Control
Black Diamond Chokes 4th gen
Fuse protection
NITRO Glow (RGB LED on logo & backplate)
Turbine-X system fan control
NITRO Gear Card Support Bracket included

Technologies

DirectX 12, Vulkan 1.0, OpenGL 4.5, OpenCL 2.0, AMD FreeSync, AMD CrossFire XDMA (bridgeless), AMD Eyefinity, AMD LiquidVR

DirectX 12, Vulkan 1.0, OpenGL 4.5, OpenCL 2.0, AMD FreeSync, AMD CrossFire XDMA (bridgeless), AMD Eyefinity, AMD LiquidVR