AMD's Navi GPU sis already being referenced in AMD's Linux drivers. As VideoCardz reports, AMD Vega was codenamed GFX9 and the current Linux driver set for Radeon cards includes a string mentioning a 'gfx10' chip of a 'super secret' nature, as reproduced below.
new_chip.gfx10.mmSUPER_SECRET.enable [0: 0]
The architecture name would usually be written in the place of 'super secret' above. While the string has just become a hot topic it has been present in the AMD Linux drivers as far back as July this year. Thus, this isn't an indication of Navi being on the precipice of launch.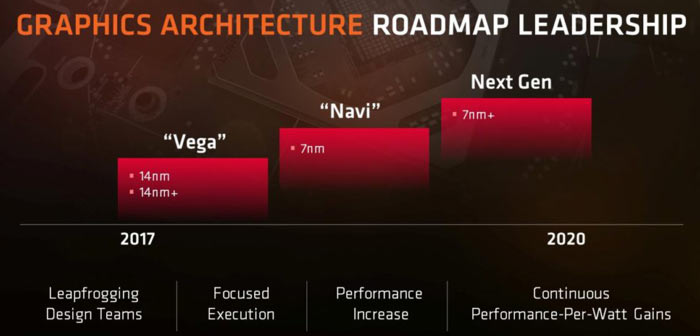 Looking over previous AMD graphics architecture roadmaps, Navi will follow Vega when AMD's foundry partner gets its 7nm process fit for mass production. Likely partner GlobalFoundries won't be ready to make 7nm chips until late 2018 or 2019, it is estimated. Earlier this month GloFo shared some specifics about its planned 7nm node.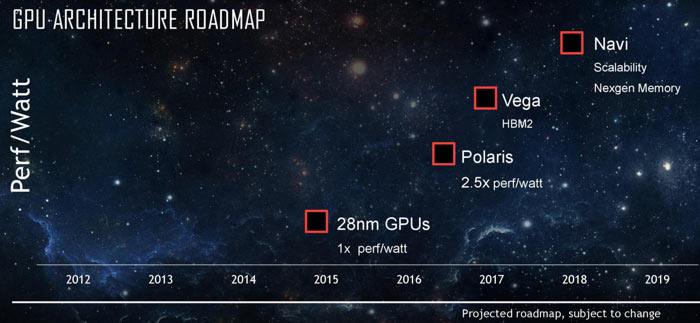 Back in 2016, AMD published the GPU architecture roadmap above, at its Capsaicin event. It indicates that Navi will deliver 'scalability' (multi-chip design?) and 'nexgen memory' (GDDR6 or HBM3?). On the chart Navi looks like it offers double the perf/watt of Polaris. The same chart shows that Navi is due in 2018 but timescales might have slipped by now, if not due to AMD's side, then due to the partner foundry.