An interesting new computer processor has appeared on the SiSoft Sandra online database. In the past we have seen similar tantalising reveals of upcoming processors, as engineering staff test their products in this synthetic benchmark and compare it with existing products in SiSoft's extensive database.
As TechPowerUp reports, the new processor appears to be an AMD APU with "massive integrated graphics" compared to the (mobile) samples we've seen before. In the screen capture below you can see that the processor is described as an "AMD 15FF Graphics (28CU 1792SP SM5.2 555MHz, 16kB L2, 2GB 2.4GHz 32-bit, Integrated Graphics) (D3D 11)" It seems to indicate that there is 2GB of (HBM2?) memory attached to this IGP. The 32-bit memory bus is a misreading by Sandra's software due to the 'surprise' we think.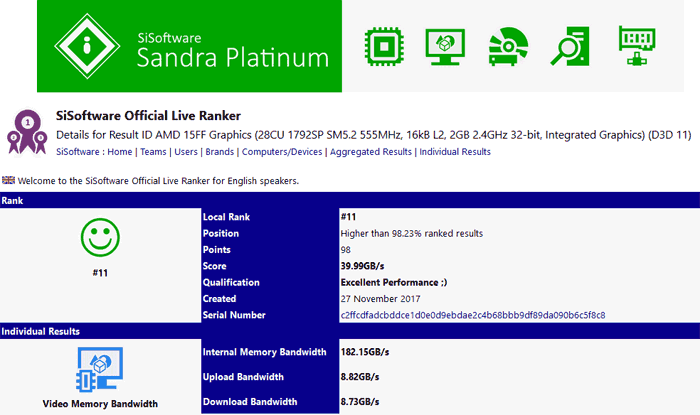 Within its descriptive title you can see that the APU features 28 Compute Units with 1792 Streaming Processors (CUs x 64) with an engine clock of 555MHz. The 2GB of video memory provides 182GB/s bandwidth. The IGP scored 98 points in Sandra graphics tests.
A few weeks ago we saw the mobile Ryzen processors launched with Ryzen CPU and Vega GPU cores. These mobile APUs maxed out at 11 CUs, and thus 640 stream processors, so Fenghuang is either a desktop APU on the way, or a powerful custom processor. Go along to the SiSoft Sandra database link for more info, my screenshot shows just a portion of the page.