Last week we reported upon the impending release of Futuremark's VRMark Cyan Room DirectX 12 benchmark. The new synthetic benchmark software was released yesterday. Coinciding with its release, AMD published a blog post about how VR and DX 12 are natural partners and, of course, highlighted how AMD hardware is a great choice for modern VR gaming and development. AMD's Scott Wasson didn't just provide some background chat about VRMark Cyan Room, he also published some results charts with benchmark scores and average fps scores.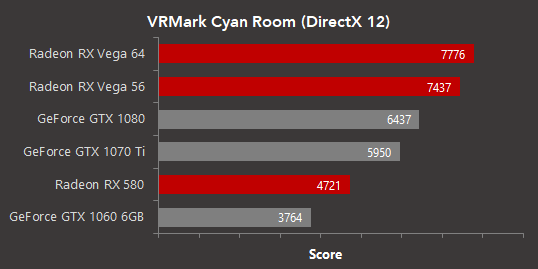 As you can see above, the Radeon GPUs have solid leads compared to the selected Nvidia competition in this new VR DX 12 test. Before we go further we must address the elephant in the room: yes it's disappointing that AMD didn't include the Nvidia GTX 1080 Ti in its testing. However, AMD reckons the competitors for the Radeon RX Vega 64 and 56 are the Nvidia GeForce GTX 1080 and 1070, and is sort of sticking to that story. Sort of - because we see the GTX 1070 Ti in the results tables here.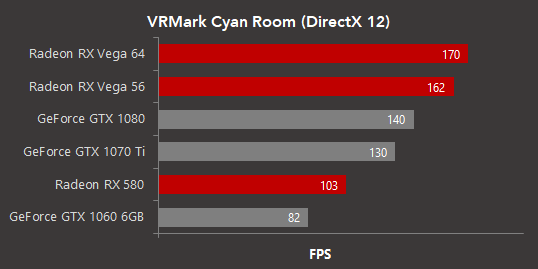 The FPS scores reveal that all the cards tested, bar the GTX 1060 6GB, are capable of that minimum standard for VR - pumping out at least 90 fps for smooth, comfortable VR experiences.
Remember that Futuremark VRMark Cyan Room DX12 is not the most high-end VR benchmark from the company. It is designed to "show how using an API with less overhead can help developers deliver impressive VR experiences even on modest PC systems". Unfortunately you will still find that many VR apps and games still use the older DX 11, but that is starting to change in favour of DX 12 and Vulkan, which both make better use of the multi-core/thread hardware resources in your PC.
If you are interested in VRMark, it is available with 75 per cent off in the current Steam Sale. That makes it US$4.99, or £3.74, until 28th Nov.