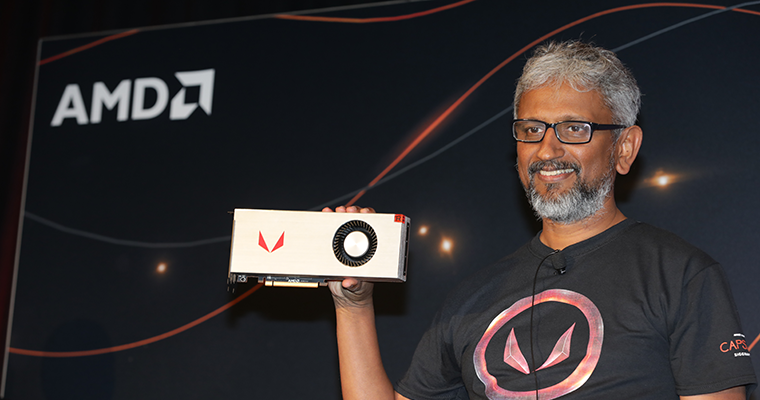 One of Raja Koduri's last acts as chief of the Radeon Technologies Group
Remember when we reported on the Radeon Technologies Group boss, Raja Koduri, taking a leave of absence with an intent to return to the fold in December? That isn't going to happen, according to a memo Raja has written to his team, because today is his last day in the job.
The Memo in Full
HEXUS has gained exclusive access to the memo through well-placed sources, and we can show you how Raja arrived at the decision to leave for pastures new:
To my AMD family,

Forty is a significant number in history. It is a number representing transition, testing and change. I have just spent forty days away from the office going through such a transition. It was an important time with my family, and it also offered me a rare space for reflection. During this time I have come to the extremely difficult conclusion that it is time for me to leave RTG and AMD.

I have no question in my mind that RTG, and AMD, are marching firmly in the right direction as high-performance computing becomes ever-more-important in every aspect of our lives. I believe wholeheartedly in what we are doing with Vega, Navi and beyond, and I am incredibly proud of how far we have come and where we are going. The whole industry has stood up and taken notice of what we are doing. As I think about how computing will evolve, I feel more and more that I want to pursue my passion beyond hardware and explore driving broader solutions.

I want to thank Lisa and the AET for enabling me to pursue my passion during the last four years at AMD, and especially the last two years with RTG. Lisa has my utmost respect for exhibiting the courage to enable me with RTG, for believing in me and for going out of her way to support me. I would also like to call out Mark Papermaster who brought me into AMD, for his huge passion for technology and for his relentless support through many difficult phases. And of course, I want to thank each and every one of my direct staff and my indirect staff who have worked so hard with me to build what we have now got. I am very proud of the strong leaders we have and I'm fully confident that they can execute on the compelling roadmap ahead.

I will continue to be an ardent fan and user of AMD technologies for both personal and professional use.

As I mentioned, leaving AMD and RTG has been an extremely difficult decision for me. But I felt it is the right one for me personally at this point. Time will tell. I will be following with great interest the progress you will make over the next several years.

On a final note, I have asked a lot of you in the last two years. You've always delivered. You've made me successful both personally and professionally, for which I thank you all from the bottom of my heart. I have these final requests from you as I leave:

. Stay focused on the roadmap!
. Deliver on your commitments!
. Continue the culture of Passion, Persistence and Play!
. Make AMD proud!
. Make me proud!

Yours,
Raja
Analysis
Our sources tell us that Lisa Su, AMD CEO, will continue to oversee RTG for the foreseeable future. AMD appreciates that such an important role cannot be the sole domain of the CEO, and to this end is actively searching for a successor to Raja. We expect the appointment to be made within a few months.
AMD is putting additional resources behind the RTG team moving forwards, we're informed, with the view of making the graphics arm of the company bigger and better.
The firm had no comment to make on whether Raja's departure has any meaningful impact on Navi, the next GPU architecture, and we take this to mean that, as far as the company is concerned, it is business as usual. And business means pushing on with new ventures such as the semi-custom Radeons for Intel H-series CPUs, announced just yesterday.
Personal Take
After having personally known Raja for well over 10 years, I found him to be thoroughly amenable, wickedly smart and more honest and open than most C-level executives at leading technology firms. He has a determined passion and excitement for graphics, so I fully expect to see him pop up at a technology company sooner rather than later. Intel, perhaps?
Update: 09/11/17
It has since been announced that Raja has joined Intel as senior vice president of the Core and Visual Computing Group, general manager of edge computing solutions and chief architect at Intel Corporation. This is no way a surprise given the close work Raja must have done facilitating Intel's move into using semi-custon Radeons for upcoming H-Series Core processors. Interesting times in the graphics market ahead.