Softbank owned ARM has today announced a new display processor (DPU) dubbed the Mali-D71. Based on the project codenamed 'Cetus', teased back in May, this DPU is built upon the brand new 'Komeda' architecture and will provide "massive gains" in performance compared to previous generation DPUs.
ARM has anticipated that display trends such as Virtual Reality and HDR will become very important to its IP customers in coming months and the Mali-D71 is built to address this requirement, being capable of driving display up to 4K at 120fps with a single pass through memory. At the same time it presents a 30 per cent power saving, 2x area efficiency, 4x latency tolerance, and 2x pixel throughput for device designers.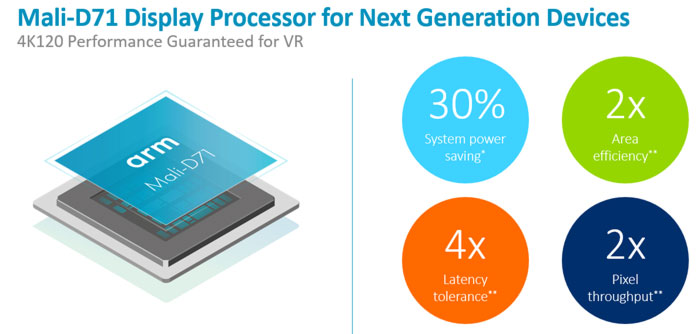 There are a couple of interesting architectural niceties that ARM has employed to make the most of the resources within the new DPU. First of all, when Mali-D71 drives a single display it can reuse the resources of the secondary display (side-by-side mode), doubling the number of full frame layers it can composite, rotate and scale. Secondly it limits the workload needing to be handled by the SoC's GPU by performing composition, in-line rotation, high quality scaling gamma/de-gamma and other advanced imaging tasks in fixed function hardware. The GPU doesn't have to be involved in such tasks at all, they are taken care of in the final stage of the multimedia pipeline by the DPU.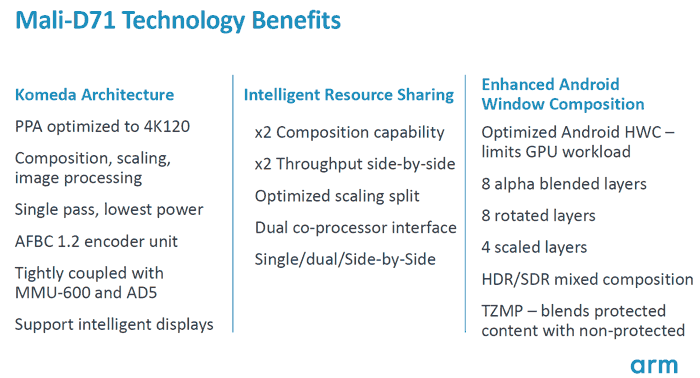 Compared to the preview info about 'Cetus' that we were given in May, I notice one or two changes in the finalised IP. Previously, ARM talked about achieving up to 4K 90fps display output but now the details point to VR displays being driven at up to 4K 120fps.
Key highlights of the ARM Mali-D71 are that it can facilitate:
HDR (native HDR 10 and HLG support) and mixed HDR / SDR composition for Netflix and Amazon Video etc
10-bit display output is supported
AFBC1.2 support enables system-wide bandwidth reduction of up to 50 per cent
Mobile VR display of up to 4K 120fps when the Mali-D71 and CoreLink MMU-600 (for advanced memory management) are deployed together
Multi-Window display: up to 8 Android composition layers in single display mode plus split screen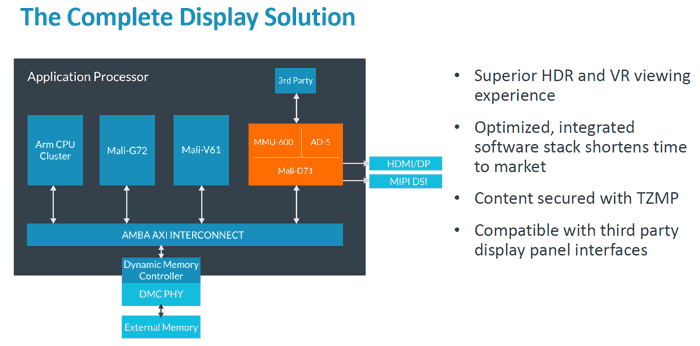 In its associated blog post ARM reminds us that it can take a little time before partners adopt its latest tech and then for it to hit silicon - before reaching the market. Also remember the DPU is just one part of the ARM SoC IP, alongside various CPU and GPU cores and other components (illustrated directly above). ARM reckons you will see the Mali-D71 in upcoming tablets, set top boxes and premium mobiles.