HEXUS reviewed the Asus Radeon RX Vega 64 Strix Gaming last Friday. We were impressed by the quiet cooling system and premium build quality, but not so much by its premium pricing and power consumption. What if Asus released a Strix version of the Radeon RX Vega 56 - could that directly address those two biggest concerns? Today a couple of new Strix RX Vega graphics cards were listed by Asus, so it looks like the question posed could be answered soon.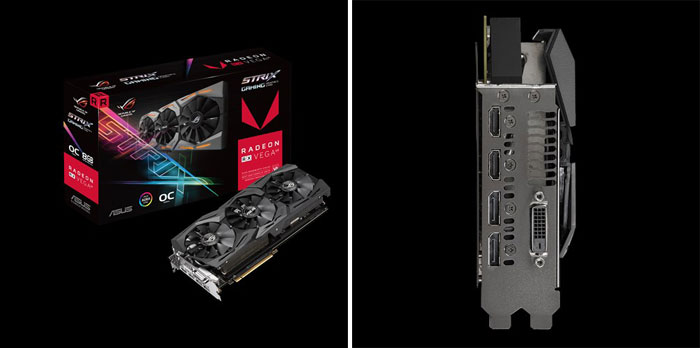 Asus has published dedicated product pages for the ROG Strix RX VEGA64 OC edition 8GB, and the ROG Strix RX VEGA56 8GB - both cards are Aura Sync RGB editions. Looking over the product pages you can see that these cards look identical. I also didn't spot any visual difference to the triple fan Asus ROG Strix RX Vega 64, as reviewed at HEXUS towers.
Switching to the product page specifications section doesn't make things clearer, and neither does setting up an online product comparison. Asus simply hasn't fleshed out the specs of these new RX Vega 56 SKUs at the time of writing beyond the basics. Both cards have the same 'product highlights' as follows:
MaxContact Technology that is 2X more contact with GPU for improved thermal transfer.
Patented Wing-Blade IP5X-Certified Fans for maximum airflow and longer fan lifespan.
ASUS FanConnect II equips with hybrid controlled fan headers for optimal system cooling.
Industry Only Auto-Extreme Technology with Super Alloy Power II delivers premium quality and best reliability.
ASUS Aura Sync RGB LED synchronization enables a gaming system personalization.
VR-friendly HDMI ports let you enjoy VR experiences anytime without having to swap cables.
GPU Tweak II with XSplit Gamecaster provides intuitive performance tweaking and real-time streaming.
Those are the exact same product highlights as the ROG Strix RX VEGA64 8GB.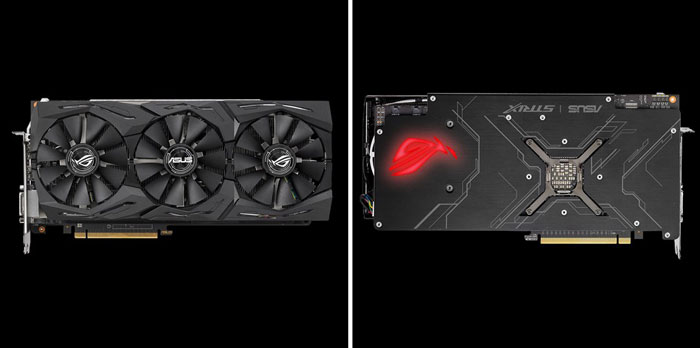 Important specs such as GPU clock speeds, OC amount on the OC model, and so on are not provided. However, now listed, it shouldn't be long until these cards become available for reviews and retail so we can get a closer look.
Radeon RX Vega pricing
There has been a pretty constant rumble of discontent regarding AMD's Radeon RX Vega graphic card pricing since day one of availability. We touched upon this news previously here (scroll down). In recent hours there have been further reports casting a critical eye on RX Vega pricing.
Yesterday Kumquat Research published an article called 'AMD: The Vega Pricing Scandal'. It looks at the initial accusations, and subsequent AMD refutations. In the end the writer concludes that "Vega's pricing and supply are rational and efficient despite claims to the contrary." It's simple economics that goods in short supply and in high demand are priced higher, over RRPs, in this case. Furthermore, Kumquat asserts that AMD loosening supply "could put the entire GPU market in danger of a pricing bust should cryptocurrency prices take a dive".
Today TechPowerUp provides another angle on Vega pricing woes for consumers. It has pictorial evidence that even distributors are marking up Vega prices, before the retailer gets a cut. It seems to paint AMD as helpless in being able to control the prices, quite a different view from Kumquat Research.