AMD has released its latest set of Radeon drivers. It's a big update, which is even accompanied by a blog post and video explaining the new features and attractions this time around. Probably the biggest new update for end users is 'Enhanced Sync', designed to reduce game animation stutter and input latency. Meanwhile developers have received impressive new tools such as the Radeon GPU Profiler.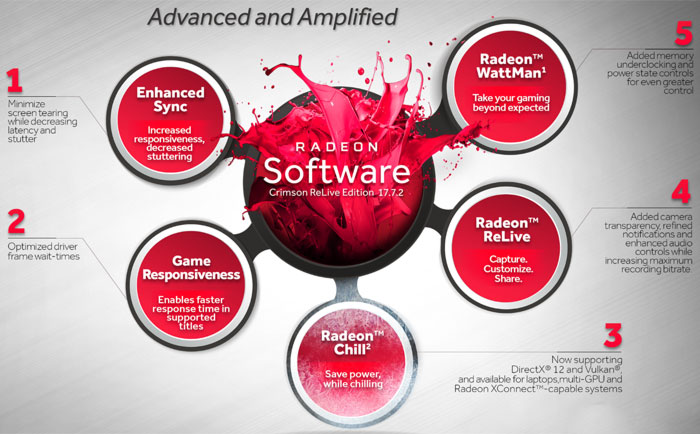 In the video below, AMD's Head of VR & Software Marketing RTG, Sasa Marinkovic, summarises the new features delivered by AMD Crimson Software ReLive Edition 17.7.2 WHQL.
I've summarised the major changes delivered by the new driver in bullet point form below:
Radeon Settings
Radeon Additional Settings has been retired and its previously supported controls for Switchable Graphics, Colour Depth and Pixel Format have all been moved into Radeon Settings.
Enhanced Sync
Enhanced Sync is a display technology which helps minimize screen tearing while decreasing latency and stuttering at an unlocked frame rate. Enhanced Sync is available in Radeon Settings Game Manager under the 'Wait for Vertical Refresh' drop down menu.
In use AMD claims up to 34 per cent lower latency and 92 per cent lower frame rate variance in testing on an RX 580 graphics card playing Overwatch, for example.
Radeon Chill
Now supports DirectX12 and Vulkan. For more details on new and supported games visit http://www.radeon.com/chill. (about 40 games)
Now supports Multi-GPU.
Now supports Hybrid Graphics system configurations.
Now supports Radeon XConnect Technology system configurations.
Radeon WattMan
Now supports memory under clocking for increased performance or improved power savings
Now supports power state controls
Others
Frame Rate Target Control now supports DirectX 12 and Multi-GPU.
Shader Cache is now supported for select DirectX 9 titles.
Per-Display Colour Controls are now available through the 'Display' tab of Radeon Settings allowing users to configure Brightness, Hue, Contrast and Saturation.
Radeon ReLive
Now supports bitrates up to 100Mbps for recording or capturing.
Added new controls for camera transparency.
Optimized memory usage for lower overhead while recording or capturing.
Added new notifications for Instant Replay Saving, Recording Timers in Overlay Toolbar and Network Connectivity Issues when streaming.
Enhanced Audio Controls: Radeon Software Crimson ReLive Edition now has support for customizable microphone volume controls, audio boost for captured replays and push to talk (mouse + keyboard) support for microphone.
The Radeon GPU Profiler was mentioned in the intro. This tool "aims at taking the next step in helping PC game developers enabling Vulkan and DirectX 12," explains AMD. It's a visualisation tool that allows developers to quickly scan detailed timing information on Radeon graphics through custom, built-in hardware thread-tracing. It will likely be used to analyse Async Compute usage, event timing, pipeline stalls, bottlenecks and other performance inefficiencies.
Last but not least the AMD Crimson Software ReLive Edition 17.7.2 WHQL have fixed a number of previous issues. If you have experienced incorrect colours when using an HDR display and a secondary SDR display connected in extended mode when playing Mass Effect: Andromeda - this is now fixed. Sticky fan speeds when dabbling in WattMan have been fixed, fullscreen stutter in some video playback apps using AMD FreeSync has been fixed. Radeon ReLive users have had MS Office recording and task switching issues fixed.
You can grab the drivers now at the usual place.