Many of you will be aware that SIGGRAPH 2017 kicks off tomorrow in Los Angeles, running for a full week, until 3rd August. This conference, on the subjects of computer graphics and interactive techniques, held at the LA Convention Centre, is AMD's chosen platform to launch its Radeon RX Vega graphics cards that are so highly anticipated by PC enthusiasts and gamers. AMD's teasing tour will end and at last we shall hear full official details about this new range of consumer graphics cards and perhaps even learn of availability and pricing.
HardOCP photo shoot
Ahead of the impending flood of official information there have been a couple of interesting teases concerning AMD's Radeon RX Vega graphics cards. First of all HardOCP's Editor, Kylie Bennett, has published a photo of an RX Vega reference edition. Bennett went on to say that he took this photo as he was preparing an "RX Vega FreeSync vs. GTX 1080 Ti G-Sync Blind Gaming test video," which is currently in progress.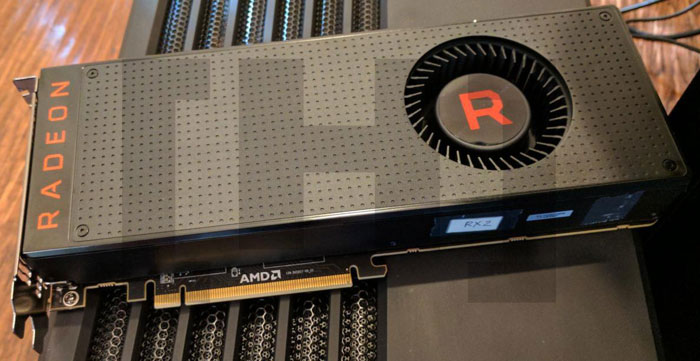 Rather than compare the RX Vega against the Nvidia GeForce GTX 1080, like AMD did on its recent tour, and it suggested that HardOCP do, Bennett said he decided to compare against a 1080 Ti simply "because I wanted to". The HardOCP editor had access to the RX Vega for just one day so warned readers that "This is far from a full-on end-all be-all look at RX Vega. Just a quick blind test we did because we had the opportunity and I thought it would be a good look at G-Sync vs. FreeSync." The comparison video could be uploaded to HardOCP later today.
Quasi-official 3DMark Fire Strike scores
Comparisons are interesting, but what about benchmarks? Yesterday VideoCardz published a set of three purported new AMD Radeon RX Vega 3DMark Fire Strike performance scores. These are scores for a trio of consumer RX Vega cards, rather than one of AMD's Pro Vega cards put into game mode.

Indications are that these benchmarks were completed by Senior Technical Marketing Specialist at AMD (and former Forbes and PCWorld contributor), Jason Evangelho, as his 3DMark user name is 'The GameTechnician'. As VideoCardz notes, "it will not get any more official than this before launch".