AMD has emailed HEXUS to announce the availability of the Radeon Vega Frontier Edition professional graphics card. The company describes this new Vega GPU powered card as "the world's fastest graphics card for machine learning development and advanced visualization workloads". Some very good news is that the air cooled card is priced lower than originally reported, it now has a suggested retail price of US$999.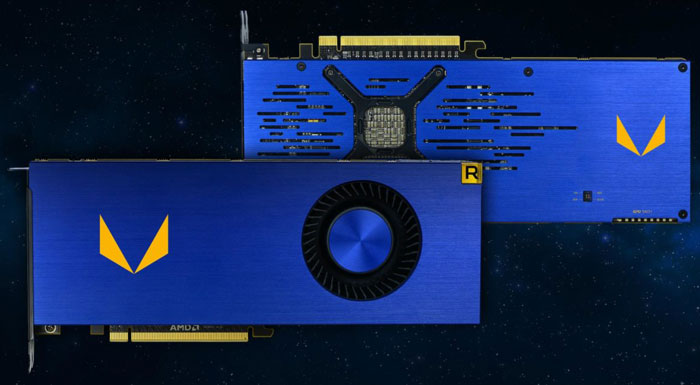 You can read the ins and outs of the new professional flagship graphics card from AMD on the official product pages which highlight features, performance, specifications, and provides links to driver downloads. In its email to HEXUS AMD would rather point out what it considers to be the major selling points of the Radeon Vega Frontier Edition with Radeon Pro Software. Key attractions are said to be as follows:
"Unmatched performance and TCO in machine learning applications" thanks to AMD's scalable ROCm software.
"Advanced photo realistic rendering performance" with Radeon ProRender. Additionally AMD boasts of "exceptional multi-GPU scaling, with 91 percent faster rendering using two Radeon Vega Frontier Edition GPUs".
"Accelerated game design and immersive workflows" using a GPU that can provide all the performance you need in creating to the final testing of VR-Ready content. The new Radeon Pro Settings can switch between 'Radeon Pro Mode' and 'Gaming Mode' to alternate between development acceleration and gaming performance optimisations.
"Groundbreaking VR content creation". Like in the game development scenario above, users can easily develop and test cutting edge graphical experiences. For example with Radeon Loom creators can stitch high-resolution video in real time at up to 8K x 4K. Then in testing the experience the Radeon Vega Frontier Edition achieves the maximum possible score in the SteamVR benchmark.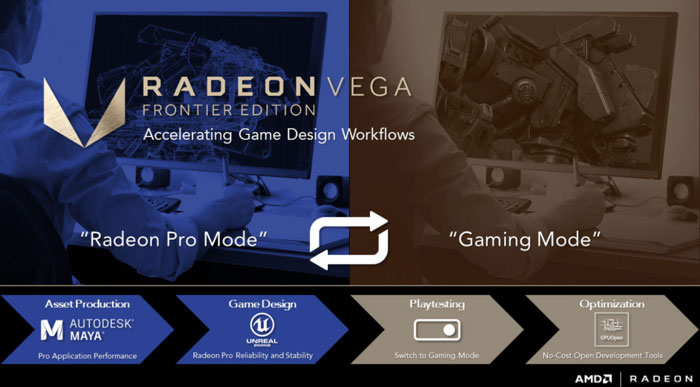 The air cooled card will be available immediately from etailers in select regions, with a suggested price of US$999, says AMD. (However, clicking on the official AMD link to Newegg sends you to a pre-order page which advises of a release date of Thursday, 29th June.) Those with an eye on the water cooled edition will have to wait until Q3 and stump up a significant chunk of extra cash, $1499.