At Computex today AMD held a press conference largely hosted by CEO DR Lisa Su. One of the biggest pieces of news concerned RX Vega and its timing. The Radeon RX Vega graphics cards will launch at SIGGRAPH 2017 in LA, which kicks off at the end of July. This article is Vega-centric and will be followed up with one concerning AMD's CPUs and APUs.
Applications demo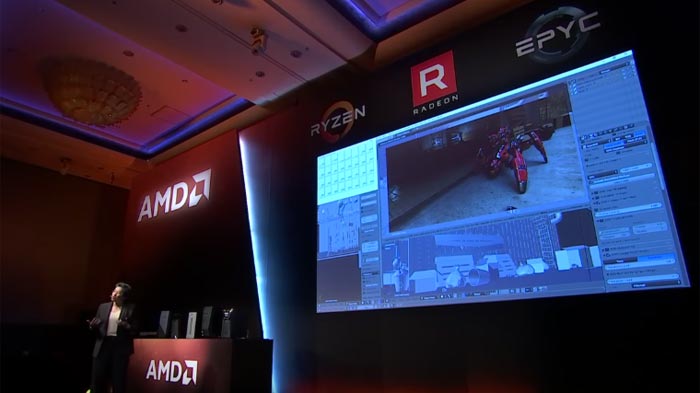 At today's press conference Dr Su shared a demonstration the Blender 3D graphics application running on a 16C/32T Threadripper PC system equipped with 4x Radeon Vega Edition GPUs. She showed a complex 3D scene being re-rendered very quickly as the artist panned and moved around the scene. It was explained that 3D artists like to consider many views multiple times in their work, so the combined speed on offer is of great utility, not just some project to get great benchmark numbers.
Radeon Vega Frontier Edition will indeed be the first Vega GPU product to launch and Dr Su said it will be available, on the market, starting from 27th June.
Vega talk by Dr Lisa Su starts from 50 mins onwards
Gaming demo
The final demo of the AMD Computex presentation (from 53 minutes onwards) concerned gaming. This time AMD showed off a PC system, again powered by a Threadripper CPU, but this time with a Dual Radeon RX Vega graphics card setup.
AMD used the above system to play Bethesda's Prey in 4K at ultra settings. Dr Su promised gamers would enjoy "incredible" performance with its newest CPU and GPU combos. Looking at the video on stage some have noted that there was some screen tearing in evidence. It is thought that this issue could be to do with the lack of FreeSync on the stage screen system.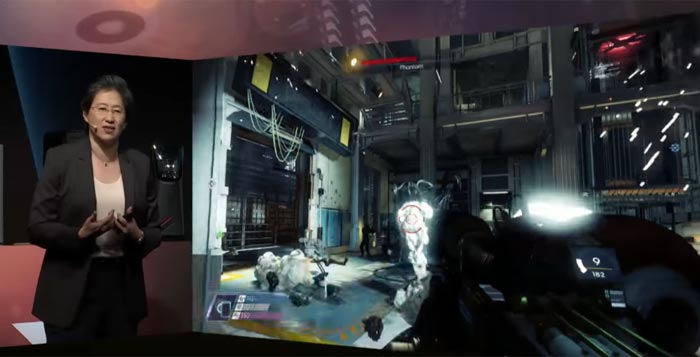 For gamers chomping at the bit for Radeon RX Vega, they will have to wait until the end of July for the SIGGRAPH 2017 in LA for these cards to be launched. Dr Su said the SIGGRAPH event was chosen for the high performance graphics and content creation that the event focuses upon.
Signing off, Dr Su said the next couple of months will be packed with excitement and information about Ryzen, Threadripper, and Vega as various products launch, "the best is yet to come".