AMD has rather quietly 'launched' the Radeon RX 560 graphics card. Perhaps the understated release of details and the addition of this card to its RX 500 family stable was meant to avoid distraction from its other news yesterday / today. The RX 550 was similarly released without any fanfare from AMD itself, back in April.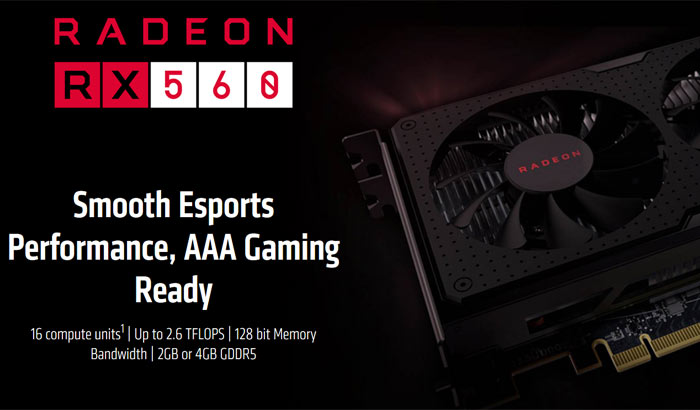 Key specifications of the reference RX 560 are as follows:
Max Compute Units: 16
ROPs: 16
Stream Processors: 1024
Texture Units: 64
Transistor Count: 3 billion
Base Frequency: 1,175 MHz
Boost Frequency: 1,275 MHz
Peak Pixel Fill-Rate: Up to 20.400GP/s
Peak Texture Fill-Rate: Up to 81.600GT/s
Max Performance: 2,600GFLOPs
Memory: 2GB or 4GB GDDR5 on 128-bit interface
Memory speed: effective 7Gbps for 112GB/s bandwidth
TDP: 80W
Compare the above to the previous generation corresponding Polaris 11 card, the RX 460. Now, with the RX 560 you have two more CUs so there are 1024 streaming processors available, the previous gen card had 14 CUs enabled for 896 streaming processors.
Clock speeds have been tweaked in this generational uplift. Base/boost reference clocks of the AMD Radeon RX 460 were 1,090/1,200MHz. However, the additional enabled compute units and faster speeds have pushed up the required wattage a bit, from 75W to 80W.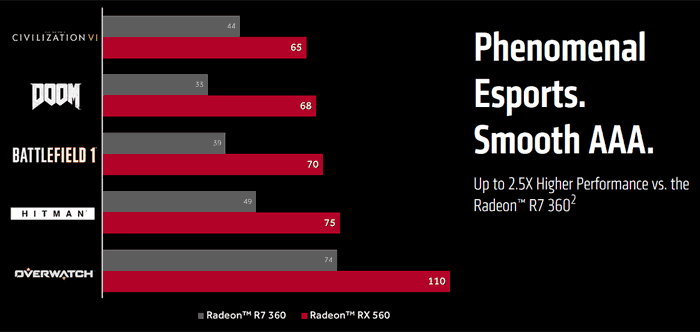 In its own marketing comparisons AMD compares the RX 560, not against current or immediately previous gen graphics cards, but against its Radeon R7 360. It easily outperforms its old stablemate in modern games as you can see in the chart above. Testing was done in the featured games at 1080p, with medium quality presets, except Overwatch which was tested at 'epic' settings. On a system with an Intel Core i7 6700K (@4.0GHz), 2x4GB DDR4-2667MHz memory, AMD web driver 17.2.1 and Windows 10 (64-bit) the Radeon RX 560 (4GB) scored 64.5, 67.5, 69.8, 62.5 and 109.7 (fps) respectively (chart top to bottom). Meanwhile the Radeon R7 360 scored 43.5, 35.3, 32.1, 46.2 and 74.1 (fps) respectively.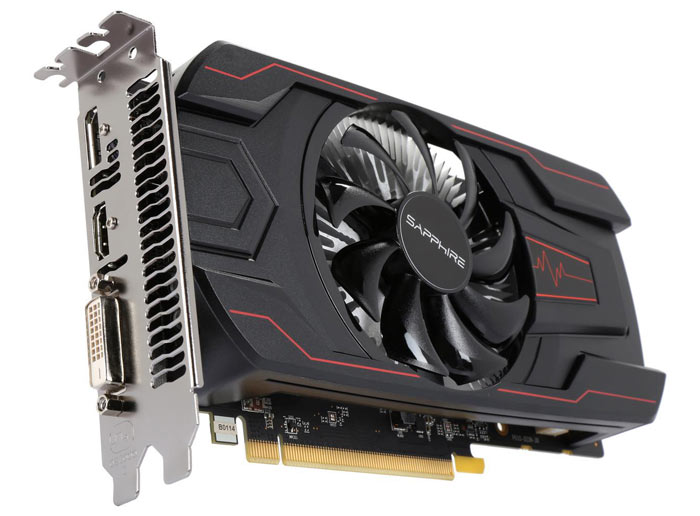 With AMD making the RX 560 official I am expecting a flood of partner card announcements shortly. I can already see listed products such as the 4GB Sapphire Radeon RX 560, with a 1,300MHz GPU boost clock, at $115. 2GB versions of the RX 560 are expected to sell at just under $100.