AMD has announced a professional graphics card based upon a dual-Polaris architecture. The new Radeon Pro Duo is claimed to be "the world's first dual-GPU professional graphics solution," and is based upon a design which appears to leverage two Polaris 10 GPUs (as used singly on the Radeon RX 480 graphics cards). Interestingly, AMD says that if your pro application doesn't support Multi-GPU you can split the GPU utilisation between two graphics packages, for example.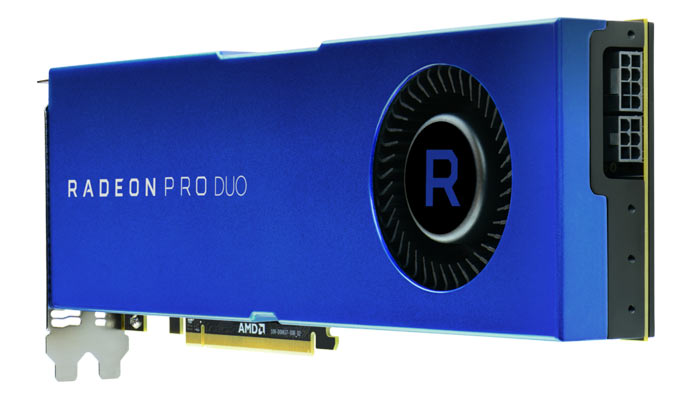 Before further talk about AMD's hopes and aspirations for the Polaris-based Radeon Pro Duo, let's tabulate the key specifications:
​Radeon Pro Duo

​GPU architecture

​GCN 4th Generation

​Stream processors

​2304 x2

​Peak performance

​11.45 TFLOPS

​Peak triangles

​9.94BT/s

​Peak engine clock

​1243MHz

​Memory type

​32GB GDDR5 (16GB per GPU)

​Memory interface

​256-bit x2

​Memory data rate/ bandwidth

​7Gbps / 448GB/s

​Typical board power

​​<250 W

​AMD FreeSync technology

​Yes

​AMD Crossfire pro technology

​Yes

​Display output connectors

​3x DP, 1x HDMI

​DisplayPort version

​1.4 – HBR3/HDR Ready

​5K support @ 60Hz

​1x single-cable 5K monitor, or 2x dual-cable 5K monitors

​8K support @ 30Hz

​1x single-cable 8K monitor

​8K support @ 60Hz

​1x dual-cable 8K monitor

​Display colour depth

​10-bit Support

​Stereo 3D output (3-pin din)

​No

​Framelock/genlock support

​No

​API support

​DirectX 12
OpenGL 4.5
OpenCL 2.0
Vulkan 1.0

​Operating system support

​Windows 7 64-bit
Windows 10 64-bit
Linux 64-bit

​Form factor

​Full-Height Single Slot
12-inch Length
You can see above that the new Radeon Pro Duo is equipped with a hefty 32GB of GDDR5 memory. AMD says that thanks to this capacity it can "handle larger data sets, more intricate 3D models, higher resolution videos, and complex assemblies with ease".
In terms of GPU performance the 72 compute units (4608 stream processors) can provide up to 11.45 TFLOPS of single-precision compute performance on one board, "and twice the geometry throughput of the Radeon Pro WX 7100". There are also cases where the Radeon Pro Duo proved to be twice as fast as an Nvidia Titan X (in both Adobe Premiere Pro CC 2017 and Blender 2.78c render times, see footnotes on this page).

Divide and conquer
The Radeon Duo Pro packs a hefty punch in modern apps that can use its multi-GPU resources to the full. However, some apps can't use Multi-GPU so AMD has enabled a GPU multi-tasking option to commit distinct GPU hardware to separate tasks. Kynan Stephenson, a freelance artist, was quoted by AMD, "The flexibility of being able to divide GPUs between tasks is phenomenal and represents the ultimate in multitasking: compositing a complex shot while jumping into a 3D application to create assets, exporting back to Nuke to keep compositing then switching to Photoshop or Mari and paint a projection, to load it back into Nuke and continue."
Other testimonials came from the VR industry where creators need a lot more horsepower than consumers as they need to handle large amounts of "raw, un-optimized content".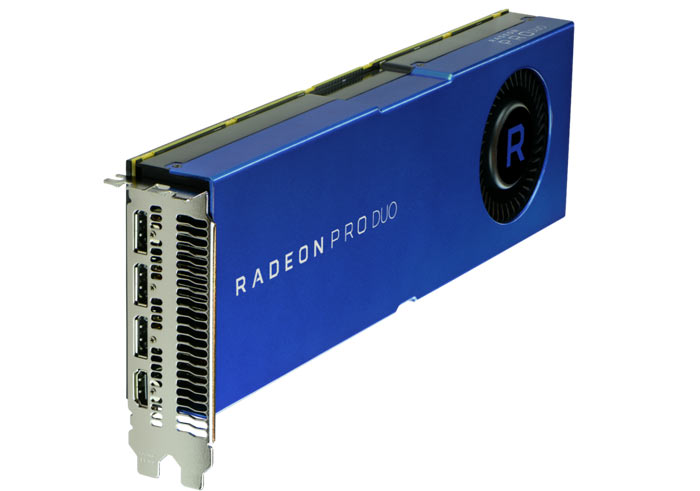 AMD plans to make the new Radeon Pro Duo available by the end of May, priced at $999. Buyers get a 2-year warranty and 24/7 tech support.