Slides shown off at an Asia-based presentation by AMD have leaked onto the internet ahead of the expected Radeon RX 500 series launch. The slides were originally posted by a Japanese site but have since been taken down by that source; however Fudzilla has reproduced the key images in its own news piece. It is expected that the official launch of the Radeon RX 500 series will be on Tuesday 18th April - hopefully accompanied by a bevy of tech sites publishing detailed real-world performance statistic packed reviews.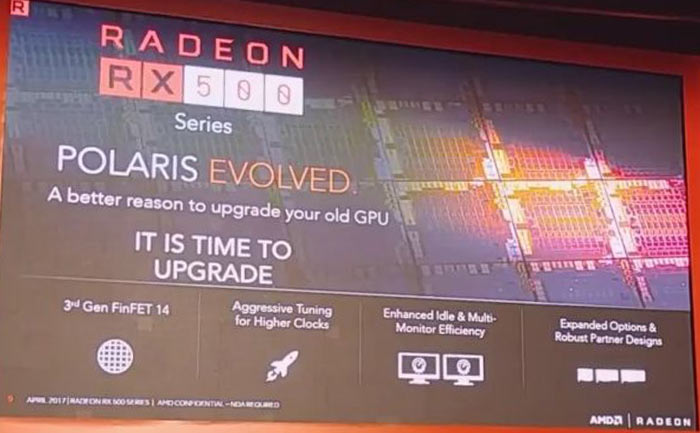 AMD's Radeon RX 500 series appears to consist of four main graphics card models; the RX 580, RX 570, RX 560 and the RX 550. In summary, the cards look to be GPU-clock bumped rebrands of the RX 400 series. One slide reveals that "3rd Gen FinFET 14" and "aggressive tuning" are behind the extra MHz squeezed from AMD's latest graphics card series. In another physical change, these 'Polaris Evolved' reference cards come as standard with dual-fan coolers.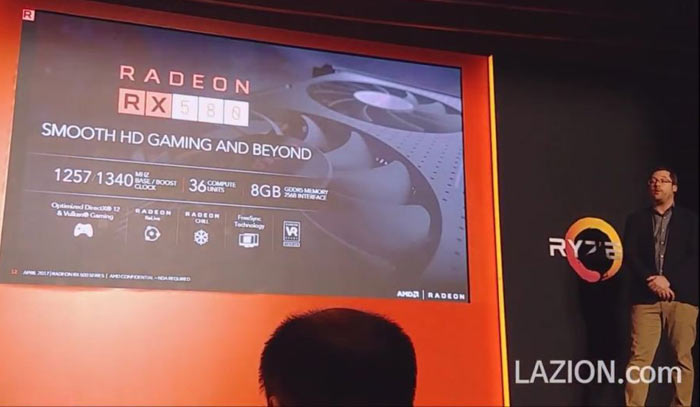 In the slides there are some performance comparisons for the various members of the Radeon RX 500 series but it is notable that AMD hasn't compared any of them against the corresponding RX 400 series graphics cards.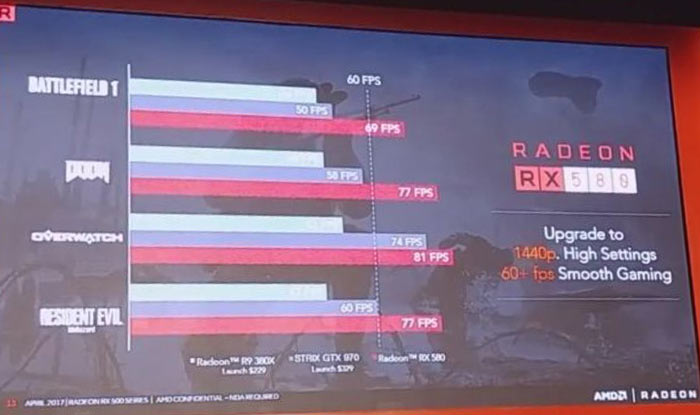 Starting at the top of the range, the Radeon RX 580 features a GPU with 36 CUs and a base/boost clock speed of 1257/1340MHz. Remember, the reference RX 480 has the same number of CUs but a but a base/boost clock speed of 1120/1266MHz (about 5 or 6 per cent slower). AMD calls the RX 580 a card for 'smooth HD gaming and beyond' plus 'immersive VR'. It shows off a couple of comparative benchmarks in popular new games pitting the 'Polaris Evolved' against a Strix GTX 970 and a Radeon R9 380X (see above).
Click to enlarge the above images
The AMD Radeon RX 570 has very similar looking specs to the RX 470, but with faster clocks. A rung below, the AMD RX 560 packs a fully enabled Polaris 11 GPU with 1024 Stream Processors plus 1175/1275MHz GPU base/boost clocks. Lastly, the new RX 550 features 8 CUs / 512 Stream Processors. Its GPU is clocked at 1183MHz (boost figure only provided) and it packs 2GB of GDDR5 memory on a 128-bit interface. This card is reckoned to be based upon a new 'Polaris 12' GPU.
When the Radeon RX 500 series is launched it's expected to be priced similarly to the series it replaces. That could mean some Radeon RX 400 bargains might become available for those on the lookout for GPUs in these price / performance brackets.